Health regulator problems 'persist'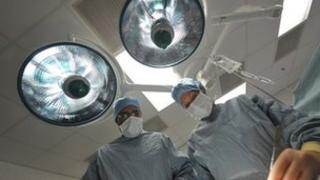 The health and care regulator for England has yet to win the public's confidence, according to a report by a committee of MPs.
The Care Quality Commission (CQC) was only created in 2009 but has been under fire virtually ever since.
The House of Commons' Health Select Committee said the CQC had still failed to grasp its primary role to ensure patient safety.
Previous reports have found recruitment problems have meant the quantity and quality of inspections have suffered.
Now the new review by the cross-party group said despite some recent improvements it was was not yet back on track.
Eighteen months ago the committee had produced a report which said the CQC had developed a "tick-box culture" and lost sight of its main role - to protect patients.
The report prompted Prime Minister David Cameron to criticise the organisation and this was followed by another attack by the National Audit Office a year ago and an official performance review by the Department of Health.
Its work also came under scrutiny after abuse at the Winterbourne View residential home near Bristol came to light.
Since then the CQC has lost its chief executive, while its chair is due to leave soon.
Public confidence
The MPs acknowledged the organisation was now aware of the changes it had to make, while new inspectors have been taken on.
But the committee said the CQC had not yet successfully defined its core purpose or earned public confidence.
It suggested its inspections needed to be more challenging and that when problems were identified ensure providers of care were addressing them rapidly.
Committee chairman Stephen Dorrell said: "The CQC's primary focus should be to ensure that the public has confidence that its inspections provide an assurance of acceptable standards in care and patient safety.
"We do not believe that the CQC has yet succeeded in this this objective."
David Behan, the CQC's new chief executive, said the regulator had carried out a strategic review and was in the process of making changes.
"We will ensure that openness and transparency are at the heart of the way we develop.
"We are focused on protecting and promoting the health, safety and welfare of people who use health and care services."
Mike Farrar, chief executive of the NHS Confederation, which represents health managers, said feedback from his members showed many did not have confidence the CQC would be fit for purpose this year.
But he said the new leadership at the regulator had brought "strong expertise" for the future.
"It is in everybody's interest to have a strong and respected regulator for health and social care in place," he added.