End-of-life care: 'Shortfall in NHS services'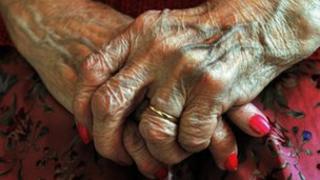 There is a shortage of specialist end-of-life care in England, causing unnecessary suffering, experts say.
People dying with the most complex conditions, such as cancer, dementia and heart and liver failure often need support from a range of professionals.
But a report - produced by end-of-life doctors and nurses - said many were going without the help they needed.
The Department of Health said it a new system for funding palliative care is expected to be in place by 2015.
Specialist end-of-life care requires teams of professionals, including doctors, nurses, social workers, psychologists and pharmacists to work together to help manage pain and disability in the final year of life and ensure patients are treated with dignity and compassion.
As well as helping to achieve as comfortable a death as possible, the support can also reduce costs to the NHS by keeping people out of hospital, said the report, produced by a host of specialist bodies including the Association of Palliative Medicine and Marie Curie Cancer Care.
'Paralysis'
Not everyone who dies needs such help as some deaths are sudden or unexpected.
But the ageing population means there is a growing number of people with complex, long-term problems that need carefully managing at the end of life.
The report said it was estimated that between 160,000 to 170,000 people a year were currently receiving specialist end-of-life care.
The groups said this was a "significant" shortfall on the numbers who needed help. It said more than 350,000 people required some form of end-of-life care, the majority of whom would benefit from specialist care.
Dr David Brooks, vice-president of the Association of Palliative Medicine, said: "There is a shortfall in services that needs to be addressed. Palliative care has the ability to save the NHS money and improve the care of patients."
It comes after there has been mounting concern about one part of end-of-life care, the Liverpool Care Pathway.
Complaints
At the end of last year there were suggestions the regime, which allows doctors to withdraw treatment in the last days of life, was being misused in places.
Relatives of dying patients had complained that their loved ones had been put on the pathway without consent.
Professionals working in the field had agreed to launch a review into how the system was working, but that was then put on hold when ministers said it should be done independently.
That review has yet to start, although the government is expected to announce details of it in the coming weeks.
Dr Brooks said the profession was keen to find out what had gone wrong, but he said the controversy and wait for the review had created a "bit of paralysis".
"It is important we get this right and tackle what was happening, but there is a little frustration it is taking some time."
A Department of Health spokesperson said: "People should receive the very best care possible, right up until the end of their lives.
"We have committed to developing a per-patient funding system for palliative care and our pilots are now under way, with plans to have the new system in place in 2015.
"In 2011, the independent Palliative Care Funding Review report identified a gap between need and provision of palliative care.
"We have already developed and started implementing an End of Life Care Strategy, which aims to raise awareness and standards of end of life care for all those who need it, whatever their condition and wherever they are being cared for.
"Commissioners need to be clear about what their local needs are, and commission the right services to meet them."