Surgeons warning on overseas weight loss surgery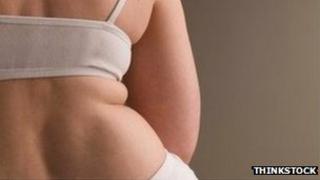 Overweight Britons are being warned about the dangers of going abroad for cheaper weight loss surgery, by UK doctors.
Almost immediately after having a gastric band fitted at a Belgian hospital Sorrel - who does not want to be identified - started having problems.
"I was in a huge amount of pain," she told 5 live Investigates. "My GP was concerned as I was losing a considerable amount of weight quickly."
Sorrel had not qualified for weight loss surgery treatment on the NHS so had chosen to look overseas and was quoted £3,600 - less than private treatment in the UK.
The gastric band procedure involves placing a synthetic ring around the upper part of the stomach, creating a small pouch above the band. This restricts the capacity to eat solid food, so helping the patient lose weight.
After the operation Sorrel repeatedly had crippling pains in her chest and stomach, and difficulty with breathing.
But the aftercare team - who were only available in the UK once a fortnight - claimed they did not have the facilities to carry out an X-ray and instead simply continued to adjust the band.
Dreams
"When I complained, they had the audacity to say that I should have gone back to the clinic in Brussels," she said.
Eventually Sorrel underwent emergency surgery on the NHS in June 2012 to have the band removed.
"These companies are selling you dreams. They send you a very colourful brochure with thin people on it with lovely boobs," she said. "But the side effects can be awful and they don't tell you that."
Senior weight loss surgeons in the UK warn of the dangers of overseas treatment, because of concerns over aftercare.
"Surgery abroad can be cheaper but that may be because aftercare is not included," says Ahmed Ahmed, director of weight loss surgery at Bupa's Cromwell Hospital in London.
"Getting a gastric band fitted is just the start of a process. Lack of follow-up care can result in more complications."
Mr Ahmed told the BBC that he has even had to treat people immediately upon their return to the UK from surgery abroad.
"I see one or two dramatic cases a year where people have gone straight from the airport to A&E."
Other surgeons have seen similar problems.
"One patient turned up in A&E 24 hours after having a gastric band fitted in Eastern Europe," says Scott Caplin, bariatric surgeon at the Morriston Hospital in Wales.
"She had complete obstruction of the oesophagus and couldn't swallow."
You can listen to the full report on 5 live Investigates on Sunday, 13 January, at 11:00 GMT on BBC 5 live.
Listen again via the 5 live website or by downloading the 5 live Investigates podcast.