Elderly care: The other options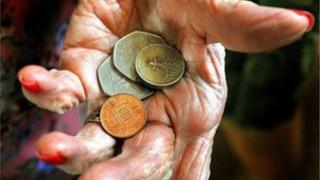 There is now a growing consensus that elderly care needs reform.
Councils are increasingly having to ration the support they provided in people's homes and the care home places they fund.
But the big unsolved question is how to pay for change.
In 2011 the government-appointed Dilnot Commission recommended an individual's lifetime costs be capped at £35,000 in England.
But this would cost £1.7bn a year - a figure which would rise in the future.
Ministers have spent the best part of two years discussing how to proceed, but have yet to reach agreement.
In many ways that is not surprising. Reform of social care has actually been on the agenda since Tony Blair came to power in 1997, but a combination of cost and complexity has meant that no government has felt able to push ahead with reform.
Lib Dem MP Paul Burstow has waded into the debate by suggesting the winter fuel allowance should be means-tested to pay for a cap on costs.
But this has caused controversy among some and, what is more, David Cameron has always promised the payment - worth between £200 and £300 for the over 60s - would not be cut.
So how else could it be paid for?
Setting the cap at a higher level
The Dilnot Commission actually suggested a level of between £25,000 and £50,000 with £35,000 being the favoured amount.
The thinking was that this was a sum that was affordable enough to get people engaged with planning for old age, but low enough not to be a drain on the public purse.
The hope was the insurance industry would start to develop products safe in the knowledge that the catastrophic costs - one in 10 face bills of over £100,000 - would be covered by the state.
However, ministers are known to have being discussing whether it would be feasible to set the cap at a higher level, perhaps even as much as £75,000.
This, of course, would be cheaper for the government. However, some have expressed concern that setting it so high would discourage people from planning for old age.
Raiding other benefits and budgets
Since the Dilnot recommendations were published a variety of other funding sources have been put forward to pay for it.
Last summer the Nuffield Trust think tank highlighted a range of benefits that could be targeted.
These included the free TV licences and travel concessions that older people are entitled to as well as the winter fuel allowance.
It also suggested the NHS surplus - which stood at £2bn last year - could also be used.
Others have looked at some of the tax-related benefits the elderly are entitled to, such as relief on capital gains tax at death and those related to pensions.
Get everyone to pay
This was actually proposed by the Labour government in its final months before the 2010 election.
The then health secretary Andy Burnham, who is now the shadow health secretary, called for a universal levy that everyone but the poorest would have to pay.
The figure put forward at the time was £20,000, which was thought to be enough to cover the costs of everyone who needs care.
One of the options floated was allowing people to defer the payment until after they die, prompting the Tories to dub it a death tax.
The idea was soon put on the backburner as the election campaign got into full swing, but many within the sector thought it was an excellent idea.
Pool budgets with the NHS
The NHS budget tops £100bn - six times what is spent on social care.
If just a fraction of health spending was diverted to social care, councils argue it could make a big difference to the services they could provide.
Even just a little more collaboration could make a difference as there is a great deal of cross over between the two sectors - particularly within NHS community services such as district nursing.
Such moves benefit the NHS as well. When vulnerable elderly people do not get support from councils their conditions can worsen, leading to hospital admissions.
To some extent this has already been recognised by ministers - by 2015 £1bn of NHS money will be reserved for supporting social care.
But some believe there needs to be a much more radical approach. In Labour circles there is talk of merging the two budgets.
How this would work in practice and whether it would negate the need for a cap on care costs remain to be seen.