UK fifth highest in world for child type 1 diabetes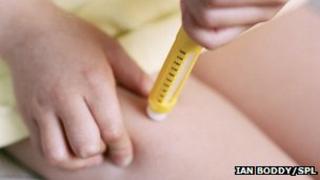 The UK ranks the fifth highest in the world for the rate of children diagnosed with type 1 diabetes, figures reveal.
Each year in the UK more than 24 in every 100,000 children aged 14 and younger are told that they have this form of diabetes, which must be treated with insulin.
Experts say it is unclear why the figure is so high.
Unlike type 2 diabetes, type 1 is not linked to obesity or lifestyle.
Genes do appear to play a role.
The government said it had introduced an "incentive scheme" to ensure that every child has the best care possible, along with regional networks to share expertise in children's diabetes care across the NHS.
The league table, based on estimates from the International Diabetes Federation, includes most countries - apart from a few African nations, where often the rate of type 1 incidence is unknown.
Of all the countries with data, only Finland, Sweden, Saudi Arabia and Norway have higher rates than the UK.
The UK rate is double that in France (12.2 per 100,000) and Italy (12.1 per 100,000).
UK charities Diabetes UK and the Juvenile Diabetes Research Foundation (JDRF) say it is vital that people are aware of the symptoms of type 1 diabetes because if left undiagnosed and untreated, it can lead to serious illness and even death.
A quarter of the 2,000 children a year who develop diabetes are only diagnosed once they are already seriously ill.
Increasingly common
Barbara Young, chief executive of Diabetes UK, said: "We do not fully understand why more children in the UK are developing type 1 diabetes than almost anywhere else in the world. But the fact that the rate is so high here in the UK means it is especially important that parents know the symptoms.
"At the moment, poor understanding of type 1 diabetes symptoms is one of the main reasons that far too many children are already seriously ill by the time they are diagnosed."
She said it was important to raise awareness of what the symptoms are - needing to go to the toilet frequently, increased thirst, extreme tiredness, and unexplained weight loss.
"Parents and carers also need to understand that if a child has any of these symptoms then they need to see a doctor urgently and be tested for type 1 diabetes."
In the UK 400,000 people live with type 1 diabetes, 29,000 of these are children.
Sarah Johnson of the Juvenile Diabetes Research Foundation said the incidence of type 1 diabetes among children was increasing by 4% year on year, with the greatest rise in under-fives.
"This problem is only going to get bigger," she warned.
She called for more investment in medical research to understand the causes of the disease.
Public health minister Anna Soubry said type 1 diabetes can be "serious and sometimes life threatening if not diagnosed early and treated properly", adding that it is "important that we all remain alert to the signs and symptoms".
She said: "Everyone with diabetes should expect excellent care from the NHS. That is why we have introduced an incentive scheme to ensure that every child has the best care possible.
"We have also established regional networks to share expertise in children's diabetes care across the NHS."