Alcohol calories 'too often ignored'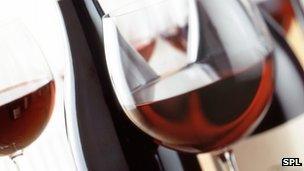 People watching their weight should pay closer attention to how much alcohol they drink since it is second only to fat in terms of calorie content, say experts.
According to the World Cancer Research Fund, alcohol makes up nearly 10% of total calorie intake among drinkers.
Having a large glass of wine will cost you the same 178 calories as eating two chocolate digestive biscuits.
And it will take you more than a half hour's brisk walk to burn off.
Eating or drinking too many calories on a regular basis can lead to weight gain.
But unlike food, alcoholic drinks have very little or no nutritional value.
The 'empty calories' in drinks are often forgotten or ignored by dieters, says the WCRF.
Kate Mendoza, head of health information at WCRF, said: "Recent reports have shown that people are unaware of calories in drinks and don't include them when calculating their daily consumption."
Containing 7kcal/g, alcohol is only slightly less calorific than fat, which contains 9kcal/g.
Protein and carbohydrates contain 4kcal/g and fibre 2kcal/g.
Men need around 2,500 calories a day, and women around 2,000.
"Cutting down on drinking can have a big effect on weight loss or maintaining a healthy weight," said Ms Mendoza.
It can also reduce your risk of cancer, she said.
Alcohol has been linked with breast, bowel, mouth and liver cancer.
If you don't want to abstain entirely, there are ways that can help you cut down, including opting for smaller glass sizes, diluting alcohol with soda water or a low-calorie soft drink, alternating between alcoholic and non-alcoholic drinks and keeping a few nights each week booze-free.
WCRF has produced an Alcohol Calorie Calculator for different drinks that shows approximately how much exercise you would need to do to burn off the alcohol calories you consume.
Government guidelines recommend men should not regularly drink more than 3-4 units of alcohol a day, and women should limit themselves to 2-3 units a day.
A standard 175ml glass of wine contains about two units and a large 250ml glass contains about three units.
If you have had a heavy drinking session, you should avoid alcohol for at least 48 hours, experts advise.
Related Internet Links
The BBC is not responsible for the content of external sites.