Cases of the winter vomiting bug 'top a million'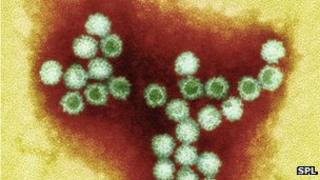 Cases of the winter vomiting bug norovirus in England and Wales have topped a million, latest figures from the Health Protection Agency suggest.
It said there were 3,538 lab-confirmed cases up to 16 December - but that for each another 288 go unreported.
The figure is 83% higher than at this stage last year - but has not increased greatly since last week.
Norovirus is a highly contagious short-term illness and causes severe vomiting and diarrhoea.
It can be spread through contact with contaminated surfaces or objects, by contact with an infected person, or by the consumption of contaminated food or water.
The HPA's figures show that - so far this year - there are 83% more cases than there were at the same point in 2011 when there had been 1,934 norovirus cases reported.
In addition, there were 70 hospital outbreaks in the two weeks up to December 23rd, compared with 61 in the previous fortnight.
'Unpredictable'
There has been an earlier start than usual to the outbreak this year - a pattern that has been seen across Europe.
Health Protection Scotland has also reported a rise in cases.
It could be there is simply an earlier peak in cases - or that figures will be higher overall this year.
The HPA stresses norovirus is unpredictable, and no two years are the same.
The norovirus "year" - the date from which experts start to count cases - begins in July and runs to the following June.
Laboratory confirmed reports represent a small proportion of the actual number of cases because most people do not see a doctor - and therefore their case is not recorded.
John Harris, an expert in norovirus from the HPA said: "The number of laboratory confirmed cases has risen once again as it appears that we have seen the rise in cases that usually begins in January start a little earlier than we normally expect.
"Norovirus is very contagious, and very unpleasant."
He said the best way to prevent the spread of the disease was to wash hands and stay away from hospitals, schools and care homes if unwell because closed environments were particularly prone to outbreaks "which can cause severe disruption".
A Department of Health spokeswoman said: "The NHS is well prepared for the winter. No A&Es have had to close so far this winter and we are providing additional funding to the NHS to help it cope with the added pressure that the winter brings.
"Our weekly published figures show the number of beds closed across the NHS due to norovirus symptoms is around 2.4%. This compares to 2.9% of beds that were closed during the peak of norovirus cases last winter."