Medway Maritime Hospital cuts disabled parking charges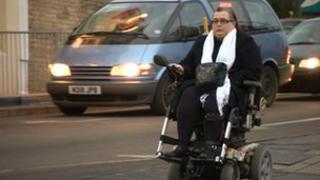 A Kent hospital accused of discriminating against disabled blue badge holders with its parking charges has agreed to reduce the prices.
Sue Groves, from Chatham, sued Medway Maritime Hospital, describing the charges as "a tax on the disabled".
Medway NHS Foundation Trust said it did not agree the charges were discriminatory but had reached an out of court settlement with Mrs Groves.
"It is a big step forward and I am really pleased," said Mrs Groves.
Parking charges were introduced for blue badge holders in July 2012, with a two-hour stay costing £2.50.
Mrs Groves argued it took longer for disabled people to get from A to B, so they were likely to incur higher charges.
She said public transport was poor and there was a lack of accessible taxis.
Frequent visitors
The trust said that as soon as reasonably practical it would "be refining the parking policy to include further concessions".
Blue badge holders would now be able to park free for up to two hours. and a discount system for all frequent patient visitors would be introduced.
Mrs Grove welcomed the decision.
"For me it was never about free parking for blue badge holders," she said.
"It was about creating a level playing field for those who have no choice but to use their own vehicles and who may be frequent users or take longer to get in and out of the hospital."
The trust said in a statement: "As a public body the trust is always striving to ensure that its policies and practices are of the highest standard.
"The trust reached an out of court settlement with Mrs Groves so that funds were not diverted away from patient care to cover court and legal costs."