Neon Roberts: Tumour case a parental dilemma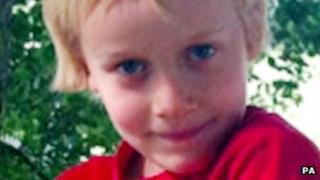 The outcome of the Neon Roberts court case was never in doubt.
On one side there was Neon's entire medical team, and the weight of evidence from peer-reviewed cancer studies who agree that he urgently needs radiotherapy; on the other was his mother who failed to produce any evidence at all of alternative treatment.
The independent cancer expert from whom Mrs Roberts sought a second opinion agreed that the treatment planned for Neon was essential and he would not survive without it.
The judge, Mr Justice Bodey, showed immense patience and consideration to Sally Roberts throughout the hearing as she first dismissed one legal team and then failed to provide the evidence to back her claim that radiotherapy was unnecessary.
For me, perhaps the most telling part of the judgement came when Mr Justice Body said "Mrs Roberts has been through a very stressful time; it was every parent's nightmare, but I fear her judgement has gone awry".
He said he hoped the parents - who are estranged - would pull together as Neon needed the support of both of them throughout his treatment.
This case will provoke strong opinions.
Compelling evidence
Many will feel Mrs Roberts deserves little sympathy. By missing key medical appointments, and then disappearing with Neon for four days, she has delayed his vital treatment.
The court heard compelling evidence that his radiotherapy should already have begun.
Neon has an aggressive brain cancer which experts agree needs radiotherapy and chemotherapy.
Mr Justice Bodey said the survival rate for children having chemotherapy only was about 35% whereas with radiotherapy it was between 80 and 86%.
The judge said the combined therapy was the standard treatment and essential to remove any remaining microscopic cancer cells that might remain after two rounds of surgery to remove brain tumours.
The cancer expert heading the team caring for Neon said he would not give chemotherapy alone as it would be unethical.
He was referred to in court as Dr A - although Neon has been named, a court order prevents the hospital treating him from being identified.
Mrs Roberts's legal team said it was her sincere belief that radiotherapy was not in his best interests and might even kill him.
Her lawyer said she was worried about the impact on his intelligence, that it could make him infertile and that he would put on weight. But the judge said she had produced nothing to support her assertion that thousands of children have survived cancer without radiotherapy.
Those who seek simply to condemn Sally Roberts should remember that she has been terribly affected by her son's condition.
The cancer charity CLIC Sargent said it was sometimes difficult for parents to come to terms with the news that life-saving treatment could also damage their children.
The judge said doctors accepted that radiotherapy had side effects: it could slightly impair intellect and carried some risks of causing infertility but most children coped well - and there would be no quality of life at all if you were dead.
It is unusual for parents to oppose cancer treatment for their children and, when it does come to court, the names are not given to protect the identity of the youngsters.
But Mrs Roberts's decision to run away with her son led to a national appeal for his return. Now the name of Neon Roberts will always be linked to this dramatic and sad case.
Sally Roberts said she could not speak to the media as she has a tie-up with a national newspaper. But her legal team are planning to appeal.
Neon's treatment will begin next month.