You and Yours investigation uncovers illegal HIV testing kits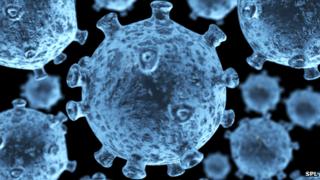 A BBC investigation has found HIV home testing kits widely available online - including on Britain's biggest online retailer Amazon.
Under the HIV Testing Kits and Services Regulations 1992 it is illegal to sell products which offer on-the-spot HIV results in the UK.
BBC Radio 4's You and Yours was told some campaigners want the kits legalised. The Department of Health is conducting a review.
Amazon say the kits have been removed.
The items were supplied by a Canadian company called Viaguard Accu-Metrics and cost £60.
While home pregnancy and sexual health tests must adhere to rigorous safety standards, these HIV products are untested and may give false results.
Prof Jonathan Weber, from Imperial College London, is a clinician who has researched HIV and Aids.
Examining the saliva kit, he told the programme: "The first thing that strikes me is there are no instructions whatsoever.
"There are four items marked ABC and D, the fourth item is an unmarked vial of clear liquid. I've got no idea how long to wait for a reaction or indeed what reaction you're looking for.
"I wouldn't have a clue how to interpret a result from this."
Regulation
Last year the Canadian health regulator ordered Toronto-based Viaguard Accu-Metrics to stop advertising or selling the kits in Canada.
Guy Slade of the Terrence Higgins Trust says the law in the UK should be reconsidered so products are regulated better.
He said: "We've heard of people who've got false negatives and got false positives. We know that there are a lot more people using the kits who will not be telling us or telling anyone about the results.
"If someone is told that they're not when they are, then obviously it is a danger for them and anyone they may be having sex with.
"The ban was introduced in 1992 and it was a different world then, it was a few years before highly active antiretroviral therapy was introduced so an HIV diagnosis did feel like a death sentence."
Confidentiality
In July OraQuick tests were approved for use in America. The mouth swab check for HIV can produce results in 20 to 40 minutes.
Lord Norman Fowler chairs the Lords Health Select Committee, and led public policy on HIV Aids in the 1980s. He believes we should follow their lead.
He told the programme: "Anything we can do to improve testing in this country should be done.
"We took the view that (home testing) was one of the most important steps you could take, because what it delivers is confidentiality.
"You do it in your own home at your own time , as long as you go on to drugs at an early stage you can live a long, successful, happy life and we need to get that message over."
Amazon told the BBC the kits were not now on sale.
Viaguard Accu-Metrics did not comment.
The Department of Health said it would be launching a consultation on a possible change to the law in the New Year, but in the meantime confidential HIV testing was available free from NHS sexual health clinics.