Surgeons' data out 'from the summer'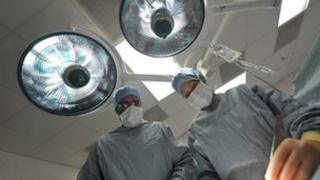 Performance data on individual surgeons should start being published from next summer, the head of the NHS says.
Data on heart surgeons is already available, but Sir David Nicholson said it was now time to push ahead with other specialities in England.
He said he wanted to see a host of other specialities, including vascular and orthopaedic surgeons follow suit from next summer.
It will then become mandatory from April 2014.
Sir David said providing such data was more aimed at allowing surgeons to compare performance, which in turn puts pressure on them to improve.
He said the evidence showed that patients did not always use such detailed information.
The publication of surgery-specific data was first called for in 2001 by Prof Sir Ian Kennedy, who chaired the inquiry into the excessive number of deaths of babies undergoing heart surgery in Bristol.
Since then, only heart surgeons have published data down to an individual level.
'Time to take a lead'
Some doctors have been resistant to widening publication of data as there is a fear that it may give a misleading impression.
Those doctors that take on the most difficult and complex cases may look to be performing worse, when in fact they could be the leading specialists in their field.
Sir David acknowledged this could be a problem, but said it had to start happening at some point and the accuracy of data would improve in time.
"People have been talking about consultant level data but never done it. It is time to take a lead."
Anna Dixon, of the King's Fund think tank, said the move was a "good thing".
But she said it was important to be clear the information was more likely to be used by surgeons than individual patients.
Seven-day service
And Dr Mark Porter, chairman of the British Medical Association, said: "There is still more to be done to ensure that data about consultants' performance is meaningful.
"Basic mortality figures alone could mislead patients because they fail to take into account other factors that might have contributed to the death of a patient."
The announcement about individual data on surgeons formed part of the planning guidance for 2013-14 published by the NHS Commissioning Board, which Sir David leads.
The board is in charge of overseeing the new GP-led clinical commissioning groups that will take charge of the NHS budget from April.
The guidance also included the details about moving the NHS to seven-day working.
The Commissioning Board is to set up a group to examine the potential for the NHS in England to provide some services - such as day surgery - at the weekend.