Can the NHS cope with winter?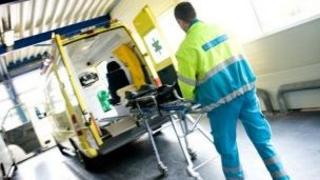 With news of vomiting bugs closing wards and intensive care units for children nearly full to bursting, it is clear the NHS is under the cosh.
Such developments can be alarming, but they are also to be fully expected at this time of year.
Winter pressure in the health service is nothing new.
A decade ago, hardly a winter went by without a headline about the NHS being in crisis because of operations being cancelled or A&E units being swamped.
But in recent years the health service has got much better at planning for the rise in patients that cold weather inevitably brings.
Systems have been put in place to lessen the impact of surges in demand.
Take children's intensive care for example.
This week the Paediatric Intensive Care Society warned all 29 units in the NHS were running close to capacity due to a spike in respiratory infections.
But thanks to robust preparations and planning no children suffered.
That's because services can be borrowed from adult wards, while in-built flexibility in the system allows beds to be "upgraded" with equipment to deal with the sickest children.
Such systems have been honed over many years of dealing with winter pressures.
'Less wriggle room'
It is well known cold weather causes extra deaths - over 1,000 a week on average - as heart attacks, strokes and respiratory problems rise as temperatures fall.
Hospitals also see increases in injuries relating to falls, especially among the elderly, as well as problems with bugs like norovirus.
The Department of Health in England tries to relieve the pressure by offering flu vaccinations to the most at risk groups, while local government is given money to try to help those most at risk of the cold weather.
Emergency funds are also available to the NHS to help them cope when the pressures get most acute.
Not that the recent spate of difficulties should be considered severe - yet.
Flu levels are low at the moment and, while norovirus is up on last year, that is partly down to an unusually small number of infections 12 months ago.
However, that does not mean it will be plain sailing for the NHS this winter.
Jo Webber, of the NHS Confederation, accepts that a spate of extremely cold weather could make matters worse, although she believes the NHS will cope with whatever is thrown at it.
But she says the public should expect more, pointing out if there were better and more accessible services available in the community hospitals would not be put under so much strain.
"We shouldn't be asking the NHS to "cope" with winter, fighting to stay on top of pressures," she adds.
While the health service is better prepared than it used to be, there is less wriggle room than ever.
Over the last 10 years the number of beds has been falling, leaving hospitals operating close to capacity for much of the time.
This was illustrated earlier this month by analysts Dr Foster who found that hospitals were well above the recommended safe level for much of the year.
This creates a situation whereby bottlenecks can quickly appear if demand rises all of a sudden.
Last week 17 A&E units had to temporarily divert patients to other hospitals because they were struggling to cope.
Again that is not unusual at this time of year, but such steps are a last resort as they simply displace the problem rather than solve it.
When a system is operating at close to maximum the fear is that good planning and preparation can only go so far.