NHS facing 'tough savings challenge'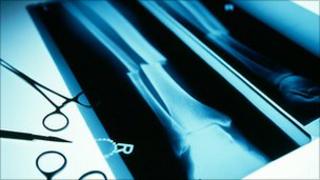 The NHS in England has been warned it must raise its game if it is to hit the ambitious savings targets it has been set and maintain services to patients.
The health service has been asked to find efficiencies of up to £20bn by 2015 to cope with rising demands.
The National Audit Office found it had made a good start, achieving virtually all its forecast £5.9bn in 2011-12.
But the report warned the push would get harder, as the easiest savings had been made first.
Over half of last year's saving came from nationally imposed policies, such as a pay freeze for staff, rather than through trusts becoming more productive.
And the watchdog said there was limited evidence being put forward that all the savings, which equate to about a 4% of the budget each year, being reported had actually been made.
The report also noted that while performance in terms of waiting times and infection rates was being maintained, there were signs patients were being affected by the cuts, despite ministers promising front-line care would not be compromised.
As part of the study, the NAO surveyed primary care trust clusters which manage local services. Over half of them reported tighter restrictions were being placed on who could access services.
This included steps such as restricting treatment given to smokers and overweight patients or making patients wait longer for operations, such as cataract surgery.
'Good start'
The report also highlighted the fact that while overall the health service had finished the year in surplus, a total of 31 trusts still posted a deficit, suggesting there were pockets of the NHS that were finding it very difficult to stay sustainable.
The NAO said the NHS - with the help of the government - needed to think much more about service transformation, such as moving care out of hospitals and into the community where it was much more efficient to run.
NAO head Amyas Morse said the NHS had made a "good start".
But he added: "To build on these savings and keep pace with the growing demand for healthcare, it will need to change the way health services are provided and to do so more quickly."
Prof John Appleby, chief economist at the King's Fund think tank, said: "Efficiencies will become harder to deliver, as one-off savings such as cuts in management costs start to slow.
"Major reconfigurations of services are needed to improve the quality of care and increase financial sustainability, yet the decision-making process remains complex and is often undermined by resistance to change."
Health Minister Lord Howe said: "The NHS is doing well to meet its efficiency savings.
"However, if it is to meet the needs of an ageing population, it needs to seriously look at how it can improve how care is being provided, particularly to older patients and those with long-term conditions."
But shadow health secretary Andy Burnham said the government's health reforms were undermining the savings drive.
"Difficult decisions are needed, but the trouble is we still have a situation where the NHS is drifting and no-one is in charge to make them.
"Old organisations are on the way out and new ones are yet to start - all the time the NHS is losing precious time in the battle to get ahead of the efficiency challenge."