The surgeons who are not doctors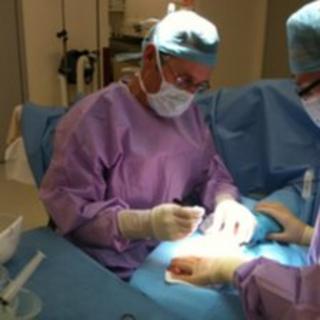 When patients go into hospital for surgery, they expect it to be carried out by a doctor.
Those wielding the scalpel will be assumed to have spent five years at university and many years building up the wealth of experience and knowledge that surgeons usually have.
But this is no longer always the case.
Those going to have carpal tunnel surgery at East Kent Hospitals University NHS Foundation Trust, for example, may be cared for by Michael Nicholas.
He is one of the growing number of surgical care practitioners (SCPs) employed within the NHS, who carry out work such as minor surgery and closing wounds that in the past would have been the exclusive territory of doctors.
"I'm doing the same sorts of things that the consultant or registrar will do, but for very specific ailments and within very specific boundaries," he says.
"I provide an extremely safe service, as I probably have a lot more practice in this one procedure than the junior doctors who normally carry it out.
"I always introduce myself to patients and make it clear than I am not a doctor, but very few have chosen not to be treated by me."
Mr Nicholas performs the operation which is carried out under local anaesthetic, and involves delicately cutting into the wrist to cut the ligament that is pressing on a nerve and producing the numbness and pain that goes with this common condition.
Growing numbers
He started working in the health service six years ago as an operating department practitioner - a trained member of staff who assists the patient and prepares equipment and medication needed during the procedure - after deciding he wanted a change from his successful career as a builder.
As an SCP, alongside carrying out operations, Mr Nicholas's duties include holding outpatient clinics for those with fractures and carpal tunnel syndrome, acting as a surgical assistant in more complex cases and teaching junior doctors and medical students.
Although he has to work under the supervision of a medical consultant, the doctor does not have to be in the same room.
Ian Garner, from Ramsgate in Kent, had carpal tunnel surgery carried out on his wrist by Mr Nicholas last year.
"Before we started Mr Nicholas explained his position and he also introduced the doctor, who was around, so I felt that the doctor knew what his staff were doing."
Mr Garner, who is 42 and works in customer services, says. 'The procedure was very quick, the longest part was waiting for the anaesthetic to work.
"Having the operation done was such a relief, as it had been horrendous. The pain would wake me up in the night - and I couldn't hold cutlery or cups.'
While figures are not collected nationally on the number of SCPs, the Association for Perioperative Practice, a professional organisation for those working in surgical theatres, says that most large hospitals now use them, and estimate that are at least 400 people in the roles.
Less time
The tasks they carry out vary, but include aspects before, during and after surgery.
This could involve examining patients, requesting investigative tests, carrying out routine surgery and discharging patients.
The role has been around in some form for the past 20 years but it has recently become much more common according to David Ward, a council member of the Royal College of Surgeons (RCS) of England.
The European laws which limit the amount of time that junior doctors can work and the cost saving potential during the difficult economic climate have helped push forward the development of the job, he says.
Junior doctors now have much less time to do the types of routine surgery that they used to carry out as part of their training.
The financial benefit for the cash strapped NHS is easy to see - SCPs earn roughly £30,000 to £40,000 a year, compared to an average consultant salary of £117,000.
Regulation fears
The college has supported the development of the role and helped design the two year curriculum of education SCPs have to undertake.
All those who take the training will have a background as a nurse or similar healthcare professional role.
"The role is an excellent idea and SCPs can be a valuable part of the multi-professional surgical team. The numbers are increasing significantly," Mr Ward says.
"In some areas SCPs are already a critical part of the care that the NHS can provide.
"The driver is certainly partly financial in that it means that the NHS can deliver more care to patients at a cheaper cost.'
The job is also supported by NHS Employers, the national organisation which represents NHS organisations.
Caroline Waterfield, deputy head of employment services, says it helps hospitals provide good care for patients.
"The SCP is a fantastic example of how registered nurses or other healthcare professionals can develop their skills, underpinned by accredited learning, to work in teams supporting the needs of patients," she says.
But there are some concerns that these advanced roles are not sufficiently regulated and that there could be confusion among patients over whether they are being treated by a doctor.
Although SCPs will be regulated for their original jobs as nurses or operating department practitioners, these more advanced roles are not checked by any regulatory body.
It has also been suggested that these jobs are designed to provide doctor-led care on the cheap.
Both the RCS and the doctors union, the British Medical Association, have suggested SCPs could affect the training for junior doctors by taking over the routine work they have traditionally used to hone their skills.
'Better than the consultant'
Norwich and Norfolk University Hospitals NHS Foundation Trust surgical care practitioner, Adrian Jones says that those doing the job want further regulation to improve patient safety.
His role includes assisting during orthopaedic surgery, such as full wound closure for patients who have had hip replacements.
He says: "The job is physically demanding and a challenge to get qualified, which we would like to see recognised,"
"My consultant comments that I now do some things better than him."
Health standards campaign group the Patients Association is among those who are not happy about what it sees as a potential risk to the safety of patients.
Chief executive Katherine Murphy says: 'There needs to be greater clarity around SCPs and who is regulating them.
"They need to be held to account - as all medical professionals should be."