Hospitals' disabled parking charges may be 'unlawful'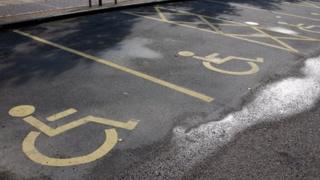 Hospitals charging disabled drivers to park could be in breach of the law, a leading lawyer says.
Some 37 NHS trusts charge disabled drivers to park, with some saying all drivers should be treated equally.
But disability rights lawyer Chris Fry told BBC 5 live this was a misreading of UK equality law.
The Department of Health said patients who went to hospital often, or for long periods, had a right to fair and appropriate car-parking concessions.
Of the 116 hospital trusts in England that responded to a Freedom of Information (FOI) request submitted by the BBC's 5 live Investigates programme, 37 said they currently charged disabled drivers to park.
For a two-hour appointment, the Royal Cornwall Hospital in Truro was the most expensive, charging £4.80 for two to four hours parking.
The cheapest was Dartford and Gravesham NHS Trust, which charges £1 per visit.
The FOI request also revealed some trusts cite "fairness" as justification for charging disabled drivers.
Southend University Hospital NHS Foundation Trust, which brought in charges four years ago, told the programme: "All blue badge holders pay the same rate as other patients, visitors and staff."
"The hospital forum feedback is that disabled persons wish to be treated the same, where practicable, as able-bodied persons."
Equality Act
However, critics say disabled people often have no other choice but to drive to hospital, as they may be unable travel by foot and public transport may not be suitable or available.
Furthermore, hospital visits may take longer to complete for disabled people - which could lead them to incur higher parking costs.
Managing partner at Unity Law Chris Fry told the BBC: "Inevitably it will cost someone more to park because of their disability, and that must be clearly wrong."
"Treating somebody less favourably as a result of their disability amounts to a breach of the Equality Act.
"That gives the individual affected by that a right of action against the local authority - either by judicial review or by way of a civil claim for compensation."
The public sector equality duty, set out in the Equality Act 2010, explicitly recognises that disabled people's needs may be different from those of non-disabled people and says public bodies must "take account of disabled people's impairments when making decisions about policies or services".
The act - which applies in England, Scotland and Wales - suggests that this might mean treating disabled people differently in order to meet their needs.
A Department of Health spokesman said: "Patients who need to go to hospital often or for long periods of time have a fundamental right to fair and appropriate car parking concessions, and we expect hospital trusts to provide them.
"All NHS organisations should support equality and ensure that there is no unlawful discrimination."
You can listen to the full report on 5 live Investigates on Sunday, 9 December, at 21:00 GMT on BBC 5 live.
Listen again via the 5 live website or by downloading the 5 live Investigates podcast.