Care home regulation criticised by Norman Lamb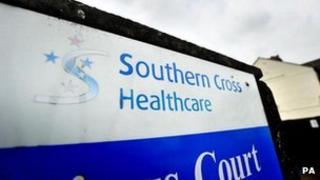 Regulation of the care sector is not fit for purpose, care minister Norman Lamb has said as he unveiled proposals on English care homes for consultation.
He also said there was a "significant lack of corporate accountability for the quality of care".
One suggested measure involves companies having to open up their books to inspectors to ensure they are financially sound.
Proposals were drawn up after the collapse of Southern Cross last year.
The country's biggest provider had thousands of elderly residents at more than 750 care homes across the UK.
Mr Lamb said its demise showed the need for "greater oversight of providers' finances".
Speaking to BBC Radio 4's Today programme, he widened out his concerns to include the recent case of abuse uncovered at the Winterbourne View care home in Bristol: "I think there is a significant lack of corporate accountability for the quality of care that is provided in care homes and in private hospitals and that's something that I'm determined to address.
"I've been looking at that in terms of the government's response to the horrors of Winterbourne View. And I just have a sense that the whole regulatory model for the care sector is not actually yet fit for purpose."
There had been concerns about Southern Cross's business model for years and it struggled to balance the books as local authorities reduced the amounts they were spending on social care.
The firm was brought down by having to pay a £250m rent bill as councils made cuts.
After its collapse, other operators had to step in to take over the care of more than 30,000 people.
The Department of Health has started a consultation on how to prevent such a situation happening again.
One proposal is to give regulators the power to go through the books of the biggest providers and challenge them to prove their business models are sound.
"We want to make sure every person receiving care and support will continue to get the care they need if a provider exits the market, regardless of whether they are paid for by the state or pay for care themselves," said Mr Lamb.
Regular requests for information about company finances would be made by the regulator, and Mr Lamb stressed that it would also challenge business models that were very complex or looked unsustainable.
But Keith Lewin, a solicitor representing care providers, said other changes were necessary.
He said: "The information that the regulator will require about the finances and the business model of a particular business will be the sort of information that will be available to investors.
'Long overdue'
"Well that sort of information is already out there and available so it isn't, in the way it's being suggested, going to prevent failures. My view is that government would be better directed to creating more stability in the marketplace by making sure that councils, for example, pay a reasonable fee for the care of people."
Shadow health minister Liz Kendall said Labour was concerned about whether the proposed requirements on care home providers to provide financial information were sufficiently strong.
It would also examine whether the Care Quality Commission or Monitor, an independent regulator of NHS foundation trusts, had the skills, experience or resources to properly scrutinise the financial structures of companies, or the power to take effective action to prevent financial failure if risks emerge.
"However, the underlying challenge facing the government is to tackle the crisis in social care funding. There have been financial pressures for many years, but the government's cuts are now driving care services to breaking point."
Jane Vass, from Age UK, welcomed the minister's announcement, which she said was "long overdue".
'Welcome step forward'
"We think for some time that there's been a need for greater regulatory oversight of care homes' finances because after all if a care home fails and an elderly resident has to move - it means not only that there's a risk to their health but also they could lose relationships they've built up," she said.
Similarly, Dr Peter Carter - chief executive and general secretary of the Royal College of Nursing - said the proposals were a "welcome step forward".
"For some time we have been concerned about the ability of providers to deliver high quality care and run on a sound financial footing," he said.
In Wales, care homes are regulated by the Care and Social Services Inspectorate Wales (CSSIW); in Scotland, the Care Inspectorate is responsible for regulating care homes; while in Northern Ireland, care home standards are the responsibility of the Regulation Quality Improvement Authority (RQIA).
Last year, the Scottish government changed its regulations so that care homes faced at least one unannounced inspection each year.
The toughening up of the regulatory system was in response to concerns that the inspection regime was not up to scratch following the deaths of two former residents at an Edinburgh care home and the collapse of Southern Cross care home provider.