The consequences of a busy day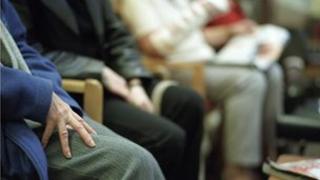 Cast your mind back to 27 February. It was a Monday morning. The weather was pretty mild for the end of winter.
The day before Liverpool had won the Carling Cup football final, while the Sun on Sunday had just been launched.
For the NHS, it was to be the busiest day of the year.
The bed occupancy rate nationally was 92% - seven percentage points above the recognised safe level - according to an analysis by monitoring body Dr Foster.
Nearly half of the 145 trusts in England reported a bed occupancy rate of 95% or above.
There is nothing to suggest anything specific went wrong that day.
But what is certain is that staff working on the wards of hospitals up and down the country would have been struggling to keep up.
Quality of care
When bed occupancy tips the 85% mark the system goes into overdrive - and things start to give.
For patients that means quality of care may suffer.
They may have to wait that little bit longer before their call bell is answered. There may not be enough staff to help the frail at meal times.
Discharge planning can go awry as hospitals become desperate to free up beds. That can mean they turf people out before they are ready or before the support in the community from district nursing teams and social care is in place.
Because of the shortage of beds, patients can find themselves moved around from ward to ward, inevitably finding themselves in unsuitable surroundings.
On their own, these things seem relatively minor, but added together they create the sort of care that leaves people feeling aggrieved and which, at its worse, is unsafe.
It is these sorts of lapses that have been highlighted in critical reports by both the Patients Association and Care Quality Commission in recent weeks.
What the Dr Foster analysis illustrates is why the NHS struggles and how then a culture that is not conducive to what ministers like to call "patient-centred" care develops.
Patient groups have been more blunt. The Patients Association described the report as "distressing", while Michelle Mitchell, of Age UK, said such overcrowding was creating a situation whereby the chances of older patients receiving high quality care was "stacked against them".
There is ever mounting evidence the NHS is under strain and many are arguing it will not take much for the wheels to come off.
Winter is always the most difficult time for the health service - illness and injury increase when it is cold. The coming months are likely to be a critical time for the NHS.