157,000 missed appointments in Northern Ireland hospitals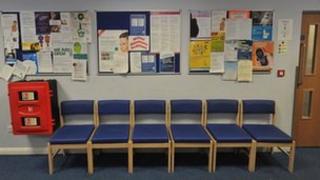 More than 157,000 patients did not attend outpatient appointments with consultants at Northern Ireland hospitals in 2011/12.
The figures have been revealed by the Health and Social Care Board.
It said there had been a total of 1.5m outpatient appointments issued during the 12 months.
A spokesman said the board would be working with health trusts to further reduce the number of patients who do not attend appointments.
The board said it had supported the introduction of improved booking arrangements, which are known to reduce the level of non-attendance at appointments.
In addition, the board will be establishing standards for trusts to further reduce the numbers who do not show up at hospital.
"All patients are encouraged to attend their appointments, and if cancellation is unavoidable, to provide as much notice as possible," the board said.
Meanwhile, it emerged there were over 17,000 missed hospital appointments in the Northern Trust over the past year.
Pasty McGlone of the SDLP said financial penalties should not be ruled out for missed appointments.
"You can impose all the penalties you like but it could put additional strain, and additional administrative costs, and indeed court costs, on a health service at a time it doesn't need to have those," he said.
Outpatient
"There may be occasions whenever re-consideration should be given to putting people to the bottom of the list."
In a statement to the BBC, a spokesperson for the trust said it had now introduced a text-messaging service to remind people of their outpatient appointment.
"Every year there are approximately 240,000 patients booked within acute specialties in the Northern Trust," the spokesperson said.
"The figure of 17,135 represents the number of appointments cancelled over the four quarters from December 2011 to September 2012. Some of these were classed as did-not-attend (DNAs); this is where the patient did not advise that they would not keep the appointment. DNA slots will remain unfilled."
In September, in the Western Health Trust there were 3,000 missed appointments.