NHS cracks 'beginning to appear'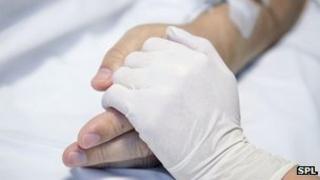 Cracks are "beginning to appear" in the performance of the NHS in England, according to a leading think tank.
The King's Fund review - dubbed a mid-term report for the coalition government - raised concern about A&E waits and finances.
But it said overall performance was holding up well.
The think tank analysed published data on performance, including waiting times, patient surveys and safety reports.
It found that on many measures performance was being maintained and in areas such as reducing the use of mixed-sex accommodation and infection control standards were improving.
But it warned there were "treacherous waters ahead".
'Huge risks'
The NHS has been asked to make savings of about 5% annually in the coming years, at a time when demands are rising.
The King's Fund said this would put the health service under tremendous pressure and warned there were already signs of problems.
A&E waiting times have risen since 2009, although still remain within the target of 95% of patients being seen within four hours, the report said.
It also raised concerns about the growing number of emergency admissions among the elderly and those with long-term conditions.
And the report flagged up the increasing number of NHS trusts facing financial difficulties.
King's Fund policy director Anna Dixon said: "There are huge risks, particularly in ensuring that quality of care does not suffer with the further financial squeeze."
Shadow health secretary Andy Burnham said there were already signs of this, claiming services, such as cataract surgery, were being rationed.
He said evidence Labour had gathered showed an estimated 52,000 people were being denied treatments, leaving them in "pain and discomfort".
Ministers denied the accusations of rationing, but agreed there were challenges ahead for the health service.
Health Minister Lord Howe suggested many of these pressures were related to the ageing population.
He said the government reforms would ensure the NHS was in the "best possible place for the future".