Review into 'end-of-life' care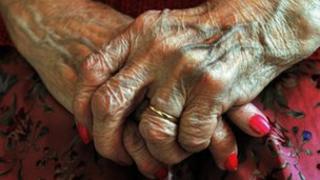 The government has ordered an independent review into a controversial regime that allows doctors to withdraw treatment in the last days of life.
The Liverpool Care Pathway has come under intense scrutiny recently, with claims that some hospitals are abusing its use to cut costs.
Medics say the pathway helps patients avoid unnecessary interventions.
Care and Support Minister Norman Lamb said he would appoint an independent chair to report back in the new year.
Mr Lamb said: "Care for the dying is an emotive issue and is never an easy subject to discuss.
"It is clear that everyone wants their loved ones' final hours of life to be as pain free and dignified as possible, and the Liverpool Care Pathway is an important part of achieving this aim.
"However, as we have seen, there have been too many cases where patients were put on the pathway without a proper explanation or their families being involved.
"This is simply unacceptable.
"Today I have committed to appoint an independent chair to review how end-of-life care is working and oversee the reviews into the LCP. This will report back to me in the new year."
He said the review would consider the value of locally set incentives, and whether they are leading to bad decisions or practice.
"It is vitally important that everyone can be confident in the findings of this work - and that we learn lessons where they are needed, so we can ensure that end-of-life care is as good as it can be."
The new review will pool together data gathered from existing reviews which are being undertaken by the Association Palliative Medicine, Dying Matters and the national End of Life Care Strategy.
The Association Palliative Medicine is examining the implementation of the pathway and the experience of professionals, Dying Matters is looking into the experience of the patient and their loved ones and the End of Life Care Strategy is focusing on complaints surrounding the LCP and end of life care in hospitals.