Savile's NHS access scrutinised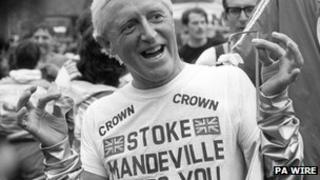 Charities say the NHS needs a greater sense of urgency in its investigations into how Jimmy Savile was given extensive access to hospital premises.
The health service is setting up four investigations following allegations of abuse by Savile but it could be up to a year before they publish their reports.
This includes an internal inquiry at the Department of Health.
Critics say that the process must be as transparent as possible so that "the public itself" can judge.
Abuse allegations
The entertainer was given extensive access over decades to three NHS hospitals; Stoke Mandeville, Leeds General Infirmary and the high security psychiatric hospital Broadmoor.
Each hospital is to carry out its own investigation, with a further internal inquiry at the Department of Health into how Savile was appointed to a taskforce at Broadmoor.
Overseeing the work of all four of these inquiries will be Kate Lampard, a former barrister who is also vice chairman of an NHS regional authority in the south of England.
Two months after the allegations of abuse against Savile were first broadcast it is still not clear what the detailed remit of each inquiry will be, what efforts will be made to contact former staff and patients and when or how the results of the inquiries will be made public.
Steven George, a former patient at Broadmoor, is among those who want answers. Since he was at the hospital he has undergone a sex change, but says as Alison Pink he was sexually assaulted by Jimmy Savile.
While the police are investigating all the criminal allegations, Mr George says he wants the NHS to answer other questions about the access given to Savile.
He said: "Who individually decided to give him the keys - why? What did they think he could do other than raise the profile of Broadmoor? Why was he given the amount of freedom to roam unescorted with the keys, once he got the keys?"
Questions to answer
Buckinghamshire Healthcare Trust, which runs Stoke Mandeville, has said its inquiry panel will be headed by one of its own non-executive directors, Keith Gilchrist.
That panel is due to meet and decide its terms of reference in the coming weeks. Broadmoor hospital is expected to make a similar announcement later this week.
Leeds General Infirmary told the BBC: "The structure and make-up of the panel to lead our internal investigation is currently being decided upon."
The Department of Health said the trusts - in consultation with Kate Lampard - are taking preparatory action and will begin inquiries once they have agreement from the police and the local boards which oversee child protection.
But National Voices - a coalition of 130 health and care charities - said the NHS needs to show greater urgency and transparency.
Their chief executive Jeremy Taylor told the BBC: "These appear to be entirely internal inquiries, we don't even know the names of the people, all of them who are going to conduct the inquiries, what the terms of reference are, how long they're going to take.
"And actually we want all that out in the public domain so that the public itself can be involved and judge.
"That's really important for accountability of the NHS to the public it serves. "
Peter Walsh, from Action against Medical Accidents, says this is particularly important as the NHS has not always been open about its mistakes.
"The public need and deserve to be reassured that things in our current NHS are safe."
No health minister was been available to do interviews about the NHS Savile inquiries.
Health Secretary Jeremy Hunt recently told MPs he had full confidence that Kate Lampard would thoroughly oversee all the investigations.
A Department of Health spokesman said: "These are appalling allegations, and alongside the three NHS trusts involved, we're determined to get to the bottom of them. That is why Kate Lampard has been appointed to oversee these investigations and as part of this work she will identify lessons for the whole NHS where they are found.
"All four organisations undertaking reviews are scoping the work required and setting out robust processes that protect the interests of patients. Terms of reference for the reviews and details of the process will be published shortly."