'I'm lucky to have survived pancreatic cancer'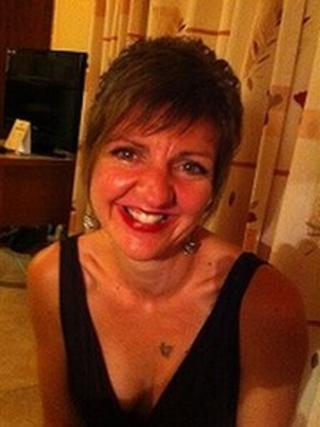 Amanda Davis-Baird was doing her Christmas shopping three years ago in Leicester when she got the life-changing call from her consultant.
"I was stood in the middle of a big store when he told me my cancer was operable," she says.
"I had this image of a black, creepy, spiky thing inside of me and I wanted it out. I felt dirty."
An MRI scan had found a cancerous mass on the 39-year-old's pancreas after a variety of symptoms had suggested something was wrong.
At first it was her appetite which waned. She stopped eating breakfast and then skipped lunch too because she felt full up.
Her GP gave her a prescription for indigestion and sent her home - but there were no signs of improvement.
"By then I had stopped eating and my weight had gone down to seven stones (44kg) very quickly.
"I was also experiencing pain on the left side going into my back."
An endoscopy did not find anything untoward, but Amanda's health continued to deteriorate and a subsequent ultrasound picked up the tumour.
Her sons were just nine and 12 at the time, and Amanda felt guilty about putting them through such an ordeal.
"But I had to be truthful about the cancer. I said 'I'll do everything I can to beat it'."
'Too late'
Pancreatic cancer has the lowest survival rates of almost every cancer, with about 4% surviving the disease for five years or more - a figure that has hardly changed in 40 years.
Experts say this may be linked to the fact that pancreatic cancer is one of the most difficult cancers to diagnose. The symptoms are often vague and can be signs of other more common illnesses, like Irritable Bowel Syndrome.
Alexandra Ford, chief executive officer at charity Pancreatic Cancer UK, says this is a key problem.
"We have evidence that people are going to their GP more often with symptoms but the signs are still not being picked up. In fact nearly 50% of people are diagnosed in A&E when it's just too late."
Symptoms include weight loss, severe back pain, abdominal pain, and jaundice which can cause an unexplained itchiness.
Pancreatic cancer is the fifth most common cause of cancer deaths in the UK, but receives only 1% of the total spending on research.
With more money research could be carried out into a symptoms database for GPs and new therapies to treat drug-resistant tumours, Ford says.
"But the holy grail would be a blood test for picking up pancreatic cancer before the symptoms appear. We think the disease could be in the body for up to 15 to 20 years."
Agonising pain
Amanda believes that it was only because she was able to get scans using private healthcare insurance that her cancer was discovered in time.
By the day of her operation, in December 2009, she had stopped working because of the constant, agonising pain. Rather than being nervous about the operation, she was looking forward to getting rid of the cancer for good.
During eight hours of surgery, doctors removed the tail and body of her pancreas, her spleen and some of her adrenal glands.
When she woke up, she could feel nothing as a result of having an epidural but within eight days she was off morphine completely and ready to come home, albeit in a wheelchair.
The next stage was having chemotherapy - and that was "pretty hideous", she says.
"I had to postpone my 40th birthday party in the summer and spent the rest of the year recovering."
But Amanda has not let the illness stop her doing what she wants to do.
'Cracked it'
She completed a triathlon last year, a long-held goal for regaining fitness, and has plans to compete in more events in the future. Feeling stronger physically makes her feel stronger emotionally, and gives her family a lift too.
Three years on, Amanda has had the all-clear. Every six months she will have a check-up to see if the cancer has returned, but she is positive that the worst is behind her now.
Some aspects of her life have changed as a result of the pancreatic cancer.
She has to watch her diet carefully, avoiding fatty foods and concentrating on eating salads, vegetables and fish. She also takes a supplement to help the digestion of the food. Taking penicillin helps her immune system and she has found out she is now pre-diabetic.
"But it's manageable, it's nothing." she says frankly. "I feel I've cracked it."
Amanda is one of the lucky 10% whose cancer is operable and one of the few survivors who can tell their story of overcoming pancreatic cancer.
But the survival of many more people is dependent on raising the profile of a difficult and deadly disease.