Second coronavirus death reported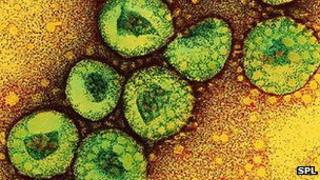 A second person has died from a new respiratory illness similar to the Sars virus, according to the World Health Organization.
The WHO said three fresh cases had also been reported bringing the total to six.
All are linked to either Saudi Arabia or Qatar. However, one man has been transferred to the UK for treatment.
Doctors say the virus does not appear to readily spread from person to person.
Both reported deaths were in Saudi Arabia.
Coronaviruses are a group of viruses ranging from the common cold to the Sars (severe acute respiratory syndrome) virus. They infect a wide range of animals.
In 2002 an outbreak of the Sars coronavirus killed about 800 people after it spread to more than 30 countries around the world.
The WHO is still trying to work out where the infection came from. Studies show that the virus it is closely related to one found in some species of bats.
It said in a statement: "Until more information is available, it is prudent to consider that the virus is likely more widely distributed than just the two countries which have identified cases."