Warning over urgent care for cancer patients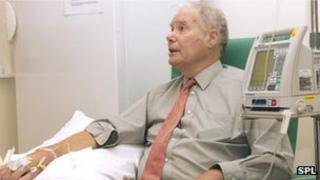 Cancer patients are being let down by the NHS in England when they need emergency help, a report says.
The royal colleges of physicians and radiologists looked at the care patients get in A&E units and from the likes of GPs and district nurses.
The study found there was confusion over how best to treat cancer patients seeking urgent help, causing delays and sometimes inappropriate care.
It said a rethink was needed as emergency admissions were on the rise.
Unplanned admissions for cancer patients have doubled since 2000-1 and now total over 300,000 a year.
Many of these - although by no means all - are related to the cancer or the treatment the patient is getting for it.
For example, some cancer drugs can leave patients susceptible to infection, while attendances for fevers and pain are common.
Difficulties
But the report found there was a lack of understanding about how to deal with cancer patients when they were admitted to hospital in an emergency.
They can find themselves passed between teams and experience delays in treatment.
However, the report also said those at the end of life could also find themselves undergoing unnecessary tests and treatments.
Surveys suggest one in four cancer patients who seek emergency help are not happy with the care they receive.
The report said there needed to be better training for staff and co-ordination with cancer departments.
And it urged staff to be on the look out for undiagnosed cases of cancer - nearly a quarter of new cancers are diagnosed after a person seeks emergency help.
But it also said there was an onus on cancer specialists to ensure their patients were aware of the emergency problems they could encounter and what they needed to do.
Society for Acute Medicine president Dr Chris Roseveare welcomed the report, saying he acknowledged hospitals faced difficulties with the issue.
"This can be particularly problematic when a patient arrives on the acute medical unit outside regular working hours and when acute medical teams may struggle to obtain the necessary information about a patient's treatment plan."
National cancer director Prof Sir Mike Richards added: "I endorse all the recommendations and urge all of these groups to make the positive changes recommended here to improve the care of cancer patients in crisis."