Major reduction in long NHS waits for operations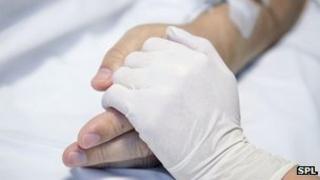 There has been a big fall in the number of people in England who have been waiting more than a year for NHS hospital treatment.
Figures from the Department of Health for September show the total has fallen to just over 1,600.
In the same month last year it was more than 20,000.
Ministers say the NHS is performing really well, but experts say most of the fall is down to better recording of the data.
'Left languishing'
Late last year ministers ordered a crackdown on what had become known as "hidden waits" for NHS hospital treatment.
The health service target had been set up to ensure - as far as possible - that patients were treated within 18 weeks of being referred by their GP.
But many who missed the deadline were left languishing on waiting lists for months or even years.
Recent figures have shown a dramatic fall in the numbers waiting more than six and 12 months.
The latest update from the Department of Health, for September 2012, shows that in addition to the fall in those waiting more than a year, the number waiting over six months for their procedure stands at just under 46,000 - down more than 60,000 compared with a year earlier.
Overall there are about 2.6m people on NHS waiting lists in England.
The NHS analyst Rob Findlay said the improvement was a "fantastic achievement". However he had some reservations about the reliability of the figures.
He said: "A year ago there were a lot of data errors. The majority of the reduction is down to data cleaning.
"However this fall is still valuable for the thousands of patients who have benefited.
"The important thing now is to ensure the health service tackles the remaining 1,613 who have been waiting more than a year. They need to bring that down to zero."
'Low and stable'
Health minister Lord Howe, said the health service was performing well for patients.
"Average waiting times are low and stable.
"The number of patients waiting longer than 18 weeks is more than 60,000 lower than in May 2010, despite hospitals admitting over half a million more planned patients a year.
"It is not unusual to see seasonal fluctuations in the number of patients treated.
"However it is not fair for patients to experience undue delay at any stage of their treatment and we expect all parts of the NHS to match the performance of the very best."
But a Labour spokesman said: "These figures fail to tell the full story. Many people are struggling to get on waiting lists as more, and more restrictions are imposed on access to treatment on grounds of cost."