NHS mandate 'a historic moment'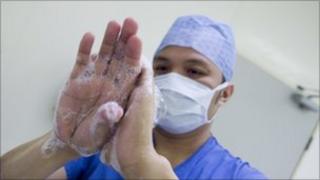 Ministers have announced what they say is a "historic moment" for the NHS in England with the publication of its first-ever mandate.
The 28-page document - produced as part of the government's NHS reforms - sets out the priorities for the health service for the next two years.
They include improving early diagnosis, cutting premature deaths and better help for dementia sufferers.
The government believes it will help patients hold the NHS to account.
The mandate was drawn up after a three-month consultation during which the public were given the opportunity to highlight what they wanted to see improved.
The key objectives included in the mandate are:
improving standards of care and not just treatment, especially for the elderly
reducing premature deaths from the biggest killers, such as cancer and heart disease
better diagnosis, treatment and care for people with dementia
better care during pregnancy, including women getting a named midwife to ensure personalised care throughout pregnancy
by 2015 everyone will be able to book their GP appointments and order repeat prescriptions online
It will now be up to the NHS board, which will take charge of the day-to-day running of the health service from April, to make sure what is set out is achieved.
The board will have to produce an annual report to show how the NHS is doing, while in time the public will be able to find out how their local services are performing via the NHS Choices website.
As part of the process, the government has promised not to change the priorities or introduce new targets until 2015.
Health Secretary Jeremy Hunt said the mandate marked the end of ministers "performance-managing the NHS from behind their desks in Whitehall".
"This is a very historic moment for the NHS, not just because finally something is happening today which has been talked about by politicians of all parties for very many years, which is making the NHS operationally independent.
"But also because we are sending a very strong signal today that we are very ambitious and optimistic about how the NHS can improve and get even better in areas which are key priorities for the public."
NHS Confederation chief executive Mike Farrar agreed the mandate was a "major sea change" as it avoided being too prescriptive and should lead to innovation in the NHS.
But he added: "The real challenge for the government now is to stay true to its word and use the mandate to give the NHS stability, rather than use it as a tool to reset priorities on a regular basis."
However, shadow health secretary Andy Burnham said the mandate was "dangerously at odds with the reality on the ground and risked raising unrealistic expectations".
"Across England, services are under severe pressure - ambulances queuing outside A&E, patients left on trolleys in corridors for hours on end, increasing numbers of A&E and ward closures."