Parents 'unaware of type 1 diabetes symptoms'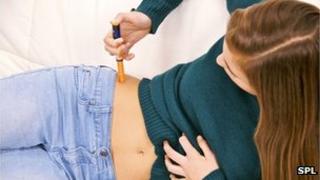 About 90% of parents are unaware of the four key symptoms of type 1 diabetes in children, a survey suggests.
The poll of 1,170 parents, for Diabetes UK, suggests many cases go undetected until the child becomes seriously ill.
In the BBC News website Scrubbing Up column, its chief executive says about 2,000 under-18s are diagnosed with the condition in the UK each year.
The main signs are tiredness, needing the toilet more, excessive thirst and weight loss.
An estimated 3.7 million people in the UK have diabetes.
Type 1 affects about 10% of them. It appears before the age of 40, usually in childhood. It is treated by daily insulin doses - taken either by injections or via an insulin pump - a healthy diet and regular physical activity
Type 2 develops when the body can still make some insulin, but not enough, or when the insulin that is produced does not work properly.
'Obvious'
Most of the parents surveyed knew thirstiness and tiredness were warning signs. But only 38% knew passing urine frequently was an indication of type 1 diabetes, while even fewer - 28% - linked weight loss with the condition.
The charity says this is one reason why a quarter of children with type 1 diabetes are only diagnosed once they are already seriously ill with diabetic ketoacidosis (DKA), a life threatening condition that needs immediate specialist treatment in hospital.
DKA happens when the body is unable to break down glucose because there is too little insulin, and it begins to break down fat instead.
This causes a by-product called ketones to build up. DKA can lead to children falling into a coma and can even cause death.
Diabetes UK is launching a campaign to raise awareness among parents and professionals.
Barbara Young, chief executive for Diabetes UK, said: "The symptoms of type 1 diabetes are so obvious and pronounced that there is no reason why every child with the condition cannot be diagnosed straight away.
"As well as making parents and those who look after and work with children aware of the symptoms, we need to increase understanding that a child who has any of the four tees needs to be tested straight away.
"This is because onset can be so quick that a delay of a matter of hours can be the difference between being diagnosed at the right time and being diagnosed too late."