Nurses warn of 'workforce crisis' in NHS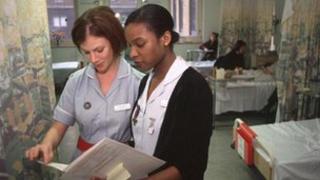 The Royal College of Nursing has warned of a "deepening workforce crisis" in the NHS in England.
It says more than 60,000 posts have either gone or have been placed at risk since the coalition came to power.
The estimate is based on an analysis of official NHS data and local trust board papers.
But the Department of Health has accused the college of "scaremongering", and insists that NHS performance is strong.
There is a relentless push for efficiency savings in the NHS. The service is looking for up to £20bn in savings by 2015 which should be channelled back into front-line care.
However, an assessment by the Royal College of Nursing has concluded that cuts to posts and services have become "the norm" without the money being reinvested.
The college's latest Frontline First report says 61,276 NHS posts in England have either gone or been put at risk put at risk since the coalition at Westminster came to power.
It says its estimate is based on official NHS data and information from local trust papers looking as far ahead as 2015.
The report's summary of workforce changes since May 2010 shows nearly 21,000 NHS posts have already gone. Managers and administrative staff have borne the brunt of this, with the loss of more than 18,000 posts.
Nursing numbers down
The number of qualified nurses has also fallen by more than 6,000.
However there has been a sharp rise in the number of doctors. The figure for qualified midwives has also improved.
But the RCN says it can see no justification for a decline in nursing numbers at a time of increasing demand for care, with an ageing population, and growing numbers or patients with long-term conditions such as diabetes and kidney disease.
The college's general secretary, Dr Peter Carter, said all clinical professions should have equal protection.
"For the past two and a half years, the government's consistent rhetoric has been that front-line posts and services are being protected. Sadly, that is simply not the case. Ten of thousands of posts have gone and cuts are a now common occurrence on the ground, hitting jobs and services that patients rely on."
Dr Carter also warned that cuts in nurse training posts could force the NHS to resort to recruitment drives overseas. He said the health service was "sleepwalking into a crisis".
'Scaremongering'
However the health minister, Dr Dan Poulter, said the RCN's use of the word "crisis" was scaremongering and did not reflect reality. He insisted that NHS performance was strong, with waiting times and infection rates at record low levels.
"This government fully supports the NHS and will put an extra £12.5bn into the health services by 2015. But at the same time, the health service is changing - average lengths of stay in hospitals are about one third shorter than they were 10 years ago, and there is more surgery where patients don't have to stay overnight on a ward.
"The numbers of patients treated as day cases is 500,000 more than it was two years ago."
Dr Poulter said workforce changes must be decided at a local level, based on evidence of what was best for patient care.
The shadow health secretary, Andy Burnham, accused ministers of inflicting a "deadly combination" of cuts and reorganisation on the NHS.
"Ministers are taking unacceptable risks with standards of patient care and they cannot continue to ignore the warnings from nurses' and doctors' leaders. They must urgently intervene to protect the NHS front line as it cannot safely sustain job losses at this level."