Premature deaths of people with learning disabilities blamed on poor hospital care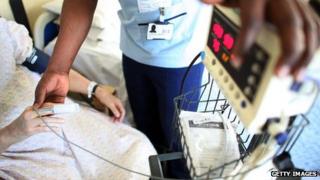 People with learning disabilities have a high chance of dying prematurely, interim figures from a major government survey suggest - and critics claim hospitals are unable to respond to learning disabled patients' needs.
In January 2009 Tina Papalabropoulos became ill. The 23-year-old, who had profound learning disabilities, had developed aspiration pneumonia - which meant food had got into her lungs.
Despite her mother Christine's repeated requests, it took several days before she was admitted to hospital.
Tina had received good care from Basildon Hospital while she was growing up, but when she had to transfer to the hospital's adult section, her mother was worried about the treatment she might get.
The hospital promised to put a "transition plan" in place for her, so she would be admitted as soon as she became ill and would be treated by doctors who knew Tina's needs. But that never happened.
Even when Tina was finally placed on a ward, she did not receive the intravenous antibiotics she needed and she continued to be fed - even though food was getting into her lungs.
"We were actually killing our daughter because all her food or drink was partly going down into her lungs," says Christine Papalabropoulos, speaking to Radio 4's File on 4 programme. "The doctors should have been aware of this, because the GP knew."
Five days after being admitted to hospital, Tina Papalabropoulos died.
"I hope to God that nobody else enters that hospital and is treated the way our daughter was treated, which cost her her life," says Christine Papalabropoulos.
"The way that our daughter was treated... that is a memory that will never leave my mind."
Christine Papalabropoulos has complained that the healthcare her daughter received when she became unwell was inadequate - and she was not alone.
The families of 17-year-old Kirsty Pearce, who died in 2003; 21-year-old Lisa Sharpe, who died in 2004; and 20-year-old Kyle Flack, who died in 2006 - have all complained of poor care at Basildon hospital.
The hospital has also been criticised in inquests and ombudsman's reports, and in one case - that of Kyle Flack - was prosecuted by the Health and Safety Executive.
Hospital's 'service failure'
File on 4 has also seen a draft of another damning ombudsman's report into Tina Papalabropoulos's case.
It says: "The trust was not customer focused, because it did not keep to its commitment... the care fell so far below the applicable standard, that this was service failure."
Furthermore: "Tina's doctors missed any opportunity there might have been, no matter how small, to save her life by providing earlier and more intensive treatment."
In a statement, Basildon Hospital told the BBC it had made improvements to the care of people with learning disabilities and has now, finally, put transition arrangements in place for young people moving to adult services.
"We strive to provide the best level of care and treatment we can to all. Basildon is the only hospital within the East of England region to have a dedicated learning disabilities nurse advisor," the hospital said.
People with learning disabilities have long been known to die younger, because they are more prone to suffer from life-limiting medical conditions. But a study being carried out at Bristol University brings proof for the first time of how - and why - people die.
This confidential inquiry into the deaths of people with learning disabilities is due to publish its full findings next Spring, but an interim report seen by File on 4 raises concerns about the treatment received by this vulnerable group when they become ill.
The inquiry team has examined around 240 deaths of people with learning disabilities over a two year period - they all lived within five Primary Care Trust areas in the South West of England.
The team's interim report - based on the first 93 deaths - found half of the deaths were unexpected 24 hours before they happened.
On a separate measure of prematurity, half of those who died were expected to live for at least another one to two years.
The number of deaths which happened during the study period was between two and three times higher than expected - though academics believe that may simply indicate a high number of people with learning disabilities in the area.
One third of the 93 deaths were of people under 55-years-old - the death rate for people under the age of 55 in the general population is around 10%.
'Pattern of suffering'
"I think it's been a huge gap in our knowledge - we haven't known enough about why people with learning disabilities die," says Dr Pauline Heslop, the confidential inquiry team manager.
"We need to make sure that this is going to make a difference."
Dr Heslop says it is too soon to draw firm conclusions from the findings - the final results will be published in March 2013, along with results from a comparator group of 60 people who did not have learning disabilities.
But the inquiry team has asked the government to set up a national review board on the deaths of people with learning disabilities, to review a random selection of deaths, and also those of people who die young or who die unexpectedly.
"This is a very real concern," says Care Services Minister Norman Lamb, who says he will give careful consideration to setting up the proposed national review.
"Any suggestion that people are dying early - and that is related to having a learning disability - is shocking and needs to be tackled.
"I have been shocked by the lessons we are learning, I am determined to tackle this, not just rhetoric, but in terms of solid actions.
"People with learning disabilities should get the care that is right for them," Mr Lamb told the BBC.
The latest revelations featured in the study follow a campaign by the learning disabled charity Mencap.
In 2007 the charity published a report, Death by Indifference, which detailed the deaths of six people with learning disabilities.
Since then the charity has catalogued the deaths of 85 people it believes received poor health care before they died.
Mencap's policy manager, Beverley Dawkins, says the confidential inquiry would validate what the charity has been saying for years.
"It tells a story of failing to provide good primary care, conditions that worsen and go on for too long.
"And it tells the story of hospitals who are unable to respond to the needs of people with learning disabilities," Ms Dawkins says.
"The sum total of all those failures is a continued pattern of avoidable suffering and death across the NHS, and this absolutely must change."
Hear the full report on File on 4 on BBC Radio 4 on Tuesday, 6 November at 20:00 GMT and Sunday, 11 November at 17:00 GMT. Listen again via the Radio 4 Radio 4 website or the File on 4 podcast.