Breast screening: For and against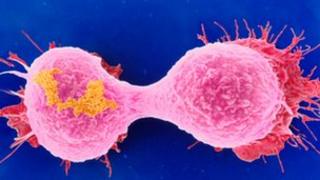 Women invited for breast cancer screening in the UK are to be given more information about the potential harms of being tested, after an independent review has shown that for some it can do more harm than good.
For every life saved, three women will have treatment for a cancer which would never have been fatal, evidence suggests.
Miriam Pryke, from Marlow in Buckinghamshire, believes she was "overtreated" for her cancer and regrets having screening, while Diane Dally from Walton-on-Thames is extremely grateful that her tumour was spotted and removed.
Miriam Pryke
"I discovered at the time of my diagnosis that I may or may not ever develop cancer but I had not been informed of this possibility before I went for screening.
"One thing led to another and I was treated," a decision that Miriam says she deeply regrets.
"I would never have undergone it [screening] had I known I had been in that situation - if I had known I could face the possibility of mutilating surgery only to discover that I did not have cancer at all."
She said: "I could not possibly know whether or not at that time I had further cancer beyond what the tests had already revealed and whether indeed the non-invasive cancer that had been diagnosed would progress or not.
"But it is done under duress. When you are under a diagnosis they tell you that they can't tell the extent of your disease or how quickly it will progress so you are under the threat of death at this point.
"It takes a very strong woman at that point to say I'm not going to do anything.
"My feet didn't touch the ground.
"I had to make my mind up."
Miriam had two breast operations to remove her cancer (removal of a quarter of her breast and then later a full mastectomy of the same breast) - a tumour that doctors say may never have gone on to cause her any problems.
She sais that without the screening there was a chance that she would have later developed symptoms, had treatment and had the same outlook as she has now - but without the screening she might never have developed symptoms and so avoided treatment and unnecessary anxiety.
Diane Dally
Diane's cancer was spotted by routine screening. After further tests to confirm the diagnosis, doctors recommended a mastectomy, which Diane says she was relieved to have.
"I wanted to have a mastectomy and they were agreeing that I should have one.
"I could not have lived with a breast that had cancer in. I'm such an anxious person that I just could not live with that.
"In some ways I didn't have a choice because they said I did need a mastectomy, but even if they had said you don't need a mastectomy I would have gone ahead and a mastectomy. I even would have had a double mastectomy if they would do it. But they said the other one was fine and that's it."
"I am thankful that I went and had the mastectomy. I have had nothing but really good support and was told each step of the way I was going what was happening."