NHS maternity claims cost £3bn over past decade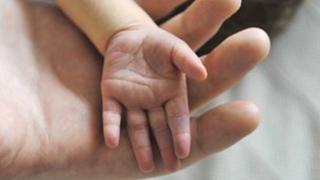 The NHS paid out more than £3bn in compensation claims linked to maternity care between 2000 and 2010, figures for England show.
An NHS Litigation Authority report said fewer than one in 1,000 births resulted in compensation.
However, it called for better training and for more senior staff to be available during labour.
The government said the NHS was one of the safest places to give birth, but it was important to learn from mistakes.
Legal claims resulting from maternity care cost the NHS more than claims from any other type of treatment. The figure is high as children may need care which lasts a lifetime.
Of five and a half million babies born during the decade there were 5,087 claims.
They included mistakes in managing labour and failing to notice an abnormal heartbeat of a foetus in the womb, which can result in death or brain damage.
'Mistakes rare'
The report said claims often involved junior doctors and inexperienced midwives. It said more senior staff should be available.
The chief executive of the NHS Litigation Authority, Catherine Dixon, said: "Having a baby while under the care of NHS doctors and midwives remains very safe.
"However, because maternity claims are so serious as they involve harm to mothers and their babies, it's vital that we learn and share lessons from them so that professionals can improve their clinical practice in the future and prevent harm."
The health minister for England, Dr Dan Poulter, said mistakes were rare but "should never be tolerated".
He added: "The NHS remains one of the safest places in the world to have a baby, but no matter how well our midwives and doctors look after women giving birth, bad things still sometimes happen to a very small number of mothers and babies.
"If these incidents hadn't happened in the first place, the NHS would have had £3bn more to spend on patient care over the past 10 years."
The Royal College of Obstetricians and Gynaecologists said the cost was "enormous" and the report was "staggering in its stark facts".
David Richmond, the college's vice president said, "Hidden behind the financial burden are countless stories of tragedy to individuals and families, which are not included in this report.
"This is a serious wake-up call to all with responsibilities in providing maternity care, whether as providers, commissioners or regulators.
"Urgent action is needed to further improve the safety of clinical services for women and their babies."