Rise in child throat infections treated in hospital, study finds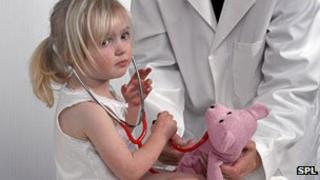 Children admitted to hospital with throat infections have increased by 76% over the past 10 years, according to a study from Imperial College London.
Writing in the Archives of Disease in Childhood, researchers found that most children were discharged after a short stay.
This suggests that the severity of infection has not increased, they said.
Pressures on doctors and a maximum waiting time in A&E could be the reason behind the increase in admissions.
The study investigated hospital admission rates for children up to the age of 17 with acute throat infections between 1999 and 2010. They also looked at the number of tonsillectomies performed during that period.
Researchers were concerned that the decline in tonsil removal operations in recent years had led to an increase in hospital admissions for severe tonsillitis.
They found that admissions for throat infections rose from 12,283 in 1999 to 22,071 in 2010. The highest rates were among children aged between one and four years, followed by children aged under one.
Over the same decade they found an increase of 115% in short hospital stays lasting less than two days. These accounted for most of the admissions.
The researchers found no evidence of a link between tonsillectomy trends and admission rates for acute throat infections.
One possible explanation is a large number of children being taken to A&E instead of to see their GP, especially if the infection flares up outside surgery hours. The researchers also suggest the introduction of a four-hour maximum waiting time in A&E, in 2002, may have led under-pressure doctors to admit children with less serious throat infections.
Dr Elizabeth Koshy, lead study author from the school of public health at Imperial College London, said the rise in hospital admissions for this type of infection was concerning.
'Unnecessary'
"Our findings relating to short hospital stays suggest that many of the children admitted with acute throat infections could have been effectively managed in the community.
"Our study highlights the need to urgently address the issue of healthcare access, with improved models of integrated care within primary and secondary care, to avoid potentially unnecessary hospital admissions for relatively minor infections in the future."
Dr Koshy said that further research was needed to confirm that declining tonsillectomy rates were not associated with an increase in more severe throat infections rates.
She added: "Tonsillectomy is a major and costly operation with potentially serious complications.
"So it seems sensible for clinicians to maintain a high threshold for referring children with recurrent throat infections for tonsillectomy and restrict it to those children who are most severely affected by these infections."