Nurse regulator backlog 'will take two years to solve'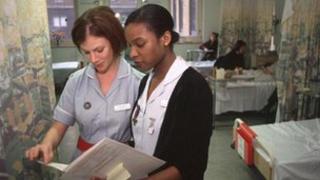 The backlog in disciplinary cases for nurses and midwives will take more than two years to clear, the profession's regulator says.
Nursing and Midwifery Council chief executive Jackie Smith told MPs on the health select committee the timescale was "unacceptably long".
But she said she had to be realistic about what could be achieved.
The regulator is facing a backlog of 4,500 cases - 1,400 of which have yet to have an interim hearing.
The NMC, which is in charge of registering and regulating the 670,000 nurses and midwives in the UK, has been dogged by problems recently.
Earlier this year an independent report by the Council for Healthcare Regulatory Excellence said the NMC was failing at "every level".
As well as the backlog in cases, the report highlighted problems with staff turnover - one in three leaves each year - IT systems and governance in general.
'Worrying for public'
In an evidence session to MPs on the cross-party group, Ms Smith said it was important to be "honest and realistic" about the problems facing the organisation.
She said the NMC was in the process of recruiting extra case managers and panellists so it could increase the number of disciplinary hearings it could run, but she admitted that would take some time to have an impact.
"We expect to clear the backlog by the end of 2014. That is two years away and is unacceptably long."
Ms Smith, who has been appointed only on an interim basis, also said: "The NMC was not clear about is purpose. It is now."
Health committee chairman Stephen Dorrell said that having a regulator in "crisis" when there is so much controversy about standards in the profession was particularly worrying for the public.
And he added until the NMC got its "house in order" confidence would not return.
Ms Smith's appearance before MPs comes in the week the government has offered the regulator a £20m one-off sum to help it tackle the problems.
Ministers have stumped up the money as the NMC has proposed raising registration fees for nurses and midwives by nearly 60% to £120 a year to help it raise funds to improve its performance.
Health Minister Dr Dan Poulter said he hoped the cash would help limit the rise at what was a tough time financially.
But he said it was essential the regulator got to grips with its problems.
"Following a period when we have heard so many terrible abuses in the care of older people and vulnerable patients, it is important that organisations like the NMC are in the right shape to properly perform their job of protecting patients," he added.
The NMC will not decide until later this month whether it will accept the money.