Flu vaccine 'withheld for safety'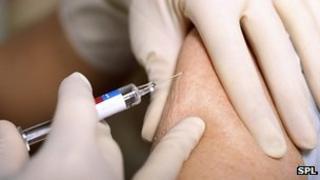 GP surgeries in England are facing a shortage of seasonal flu vaccine after a company has voluntarily withheld its supply amid safety concerns.
Crucell, which provides about 10% of the UK's flu vaccine stock, temporarily halted its supply after discovering problems with two of its batches.
It says it will wait for final quality tests before releasing any more vaccine.
In the meantime, GPs are advised to seek out alternative supplies.
A Department of Health spokesperson said: "We are aware of some unexpected delays to one supplier's deliveries of the flu vaccine and advise GP practices to contact alternative suppliers if they are having problems."
Alternatives
A number of other flu vaccine suppliers have said that alternative flu vaccines are available to order by GP practices.
The Department of Health also holds a strategic reserve of about 400,000 doses as an "insurance policy" in case there are problems with supply and manufacturers have no vaccine supplies available to order.
Crucell, a global biopharmaceutical company with headquarters in The Netherlands, has not recalled any of its stocks of flu vaccine that have already gone out.
The flu vaccine is offered free of charge to people who are at risk to ensure that they are protected against catching flu and developing serious complications.
This includes people aged 65 and older, pregnant women, people with certain medical conditions such as asthma, heart disease and diabetes, healthcare workers, carers and people living in residential care homes.
Within the next two years, all children aged two to 17 will be offered annual flu vaccinations, public health officials plan.
A flu vaccine is produced every year based on the strains of virus expected to be circulating.
Last year, 602 people with flu died in the UK.