Call for more bone cancer checks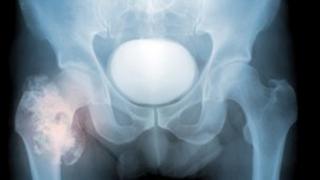 GPs should speed up referrals for X-rays in patients suspected of having bone cancer, experts say.
Survival rates for the cancer have remained unchanged for 25 years, according to the National Cancer Intelligence Network (NCIN).
It is a rare cancer, affecting around 380 people in England each year.
But the NCIN says painful bones or swollen joints should be warning signs and GPs should not assume they are sporting injuries or "growing pains".
Bone cancers - or sarcomas - account for only 0.2% of all cancers diagnosed in England.
Five-year survival rates have improved for the majority of cancers since the 1980s, but they have remained at around 55% for bone cancers.
Osteosarcoma, the most common form of primary bone cancer, has a five-year survival rate of just 42% - worse than for leukaemia, ovarian cancer and bladder cancer.
Over half of those with the disease are aged under 24, according to the NCIN report.
'Huge impact'
The study was prepared by the West Midlands Cancer Intelligence Unit, whose researchers, led by Dr Gill Lawrence, compiled data on primary bone cancer diagnosis and survival in England between 1985 and 2009.
Dr Harriet Unsworth, information and research officer at the Bone Cancer Research Trust (BCRT), said: "Bone cancer symptoms can include painful bones or swollen joints, and this can easily be misdiagnosed by GPs as a sporting injury or 'growing pains'.
"Many children and young adults have had to make several visits to their GP over many months before they are finally sent for an X-ray or referred to a specialist.
"That can have a huge impact on their chances of survival.
"GPs need to be more aware of primary bone cancer so they can consider a diagnosis of bone cancer much earlier than they do currently."
A Department of Health spokeswoman said: "We are committed to saving an extra 5,000 lives every year through early diagnosis of cancer.
"We need to encourage people to recognise the symptoms and signs of cancer and seek advice from their doctor as soon as possible."