BMA chief suggests raising taxes to help the NHS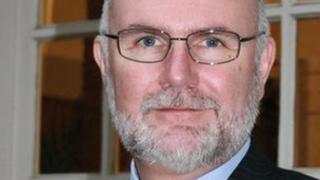 Taxes may need to be raised to help the NHS avoid making cuts to front-line services, the new leader of the British Medical Association has suggested.
Dr Mark Porter told the BBC the ageing population was driving up costs, leading to rationing in areas such as cataract surgery and knee operations.
He said it was time to "re-examine the assumption" the NHS could cope with its current level of funding.
But the Department of Health said the NHS had enough money to manage.
The NHS budget has been effectively frozen this Parliament - it is rising by only 0.1% a year - but many argue that feels more like a cut as costs are rising because of factors such as the ageing population.
To help it cope, the health service is in the middle of a five-year productivity drive. It has been asked to identify £20bn of savings to be reinvested into care - the equivalent of 4% of its budget a year.
'Resource restrictions'
But Dr Porter, who was elected as chairman of the doctors' union this summer, said it was now clear that the savings drive was leading to cuts on the front line and it was time for a rethink.
In an interview with the BBC News website, he said: "I heard the other day a question, a question put at a Liberal Democrat fringe meeting, which I thought really encapsulated things quite nicely.
"It was challenging the entire basis of these resource restrictions. If there is a demographic challenge, why is it that the NHS has to pick up that demographic challenge within its existing budget?
"Why can we not go to the people and say there is a demographic challenge, your NHS is performing well, we need to add to those resources to pick up this demographic challenge?
"It is an interesting question that I have not heard put in that way before which this government and the previous one has simply refused to consider.
"They have simply assumed the entire cost of the demographic challenge has to be met out of existing NHS resources. I think it is time to re-examine that original assumption."
He rejected other options for raising money, saying the BMA was against introducing more charges in the NHS, while it would be difficult to take money from other spending budgets considering the NHS was one of the few areas to get any sort of protection.
'Very ambitious'
He said it was not a matter for the BMA to say which taxes should be increased, but added: "We have a huge scepticism that the country has no money left."
He said he was raising the issue because the BMA was seeing evidence of cuts to services - places where IVF was being restricted, where people were getting knee replacements only if they could return to work and where cataracts were done only when a patient was "blind in both eyes".
"What sort of society are we in where we are richer than ever but we can't offer the basic medical and surgical care that we offered only 10 years ago?"
But others expressed doubt whether raising taxes was the right move.
Prof John Appleby, chief economist at the King's Fund think tank, said: "The efficiency target is very ambitious.
"But where I disagree is the assumption that the NHS is spending every single pound with maximum efficiency. If you give the NHS more money there is a risk it will take its eye off productivity and it is worth remembering that nearly £1 in every £5 the government spends on non-interest goes to the health service."
Shadow health secretary Andy Burnham would not give his backing to increasing the NHS budget through taxes, although he criticised the government's reforms for wasting money from the existing budget.
"Labour's answer to the financial challenge is to integrate health and social care budgets, allowing greater scope for efficiencies and a decisive shift towards prevention," he added.
But a Department of Health spokeswoman said there was enough money for the NHS to cope.
"The NHS may need to make some difficult decisions, but overall patient care should not be affected.
"Rationing services on the basis of cost alone is wrong and compromises patient care. We have already written to the NHS to set out clearly that access to services should not be restricted on the basis of cost."