Call to make ward rounds 'cornerstone of hospital care'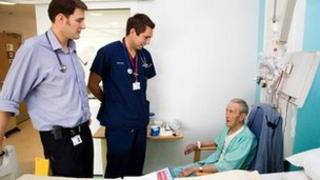 Vital ward rounds are being neglected in hospitals - to the detriment of patients, experts say.
The royal colleges of physicians and nursing said they needed to be re-prioritised and become a "cornerstone" of daily life in hospitals again.
The guidance said they were essential for communicating with patients, monitoring progress and arranging treatment and discharge.
But it said too often key staff were not available to take part in them.
This meant doctors were left to do them themselves without the input of other staff, particularly nurses.
The royal colleges said the problem had arisen because staff were being stretched too thinly and poor organisation meant they were not always carried out at the most appropriate times.
The guidance is the second time in three months the two colleges have published advice jointly.
In July they issued standards for the monitoring of vital signs, such as blood pressure and pulse rates.
It is part of a concerted effort to ensure the basic foundations of good care are in place amid concern that the combination of financial pressure, increasing admissions and the complex nature of modern medicine have skewed priorities.
'Crucial reading'
Dr Linda Patterson, clinical vice-president of the Royal College of Physicians, said: "We have heard from patients that care can be fragmented and not holistic.
"Despite being a key component of daily hospital activity, ward rounds have been a neglected part of the planning and organisation of patient care.
"There are no national guidelines or templates on how to run a ward round, there is still considerable variation across hospitals.
"We often under estimate the importance of ward rounds for patients, and sometimes don't allow enough time for patients to discuss their anxieties or for relatives to be involved with care."
The guidance makes a number of recommendations to hospitals to help them get ward rounds right.
These include preparing properly by holding a pre-round briefing, carrying them out in mornings to allow the completion of tasks during the day and ensuring a nurse and other staff crucial to the care of the patient are present.
Patients and their relatives should also be provided with a "summary sheet" clearly presenting the information discussed during the ward round.
It also includes examples of best practice, including the approach taken by University College London Hospitals, which has drawn up a ward safety checklist - based on the World Health Organization's surgical safety checklist - which is used to ensure staff carry out all the correct checks during ward rounds.
Katherine Murphy, chief executive of the Patients Association, said: "High quality, consistent ward rounds in every hospital would contribute to a more patient centred culture in the NHS. This is crucial reading for the government and trusts."