Mum's hypertension 'lowers child IQ', study suggests
By Anna-Marie Lever
Health reporter, BBC News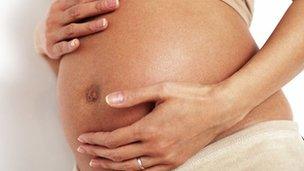 A mother's high blood pressure during pregnancy may affect her child's brain power throughout its life, the American Academy of Neurology journal suggests.
About 400 men had their cognitive ability tested at the age of 20 and then again at the average age of 69.
Those whose mothers had hypertension when pregnant scored lower marks at each age and also showed greater score decline over the decades.
Hypertension may alter conditions in the womb which impairs foetal growth.
Report author Katri Raikonen, from the University of Helsinki, Finland said: "High blood pressure and related conditions, such as pre-eclampsia, complicate about 10% of all pregnancies and can affect a baby's environment in the womb.
"Our study suggests that even declines in thinking abilities in old age could have originated during the prenatal period when the majority of the development of brain structure and function occurs."
Risks to children born to mother's with hypertension have previously been reported, but this study is the first to show possible long lasting affects on cognitive ability.
Prof Jeremy Pearson, from the British Heart Foundation, said: "Previous work by our scientists led to the recognition that children born to mothers with raised blood pressure during pregnancy have an increased risk of heart disease and stroke when they grow up. This small study suggests high blood pressure during pregnancy has another, previously unrecognised effect.
"It further emphasises the importance of early recognition and treatment of raised blood pressure in pregnancy."
Scientists studied men born in Finland between 1934 and 1944 whose mothers' blood pressure had been recorded in their medical records.
The study found that men whose mothers had high blood pressure while pregnant scored on average 4.36 points lower on thinking ability tests at the age of 69 compared to those whose mothers never suffered the problem.
The same group also had lower scores at the age of 20 and their scores declined faster over the decades than those of the other men.
The men undertook the Finnish Defence Force test - a multiple choice exam including verbal, maths and visual-spatial questions. The biggest impact was on maths-related reasoning.
The researchers also looked at whether premature birth affected their findings and found no change. Whether the baby's father was a manual labourer or office worker also did not change the results.
Related Internet Links
The BBC is not responsible for the content of external sites.