'50-hour genome' test for babies with genetic diseases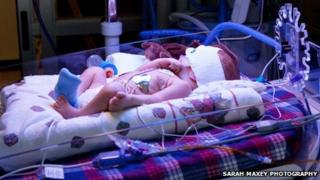 Doctors in the US say they have taken a big step forward in the speed of analysing the DNA of seriously ill babies with genetic diseases.
The whole of a baby's genetic code - genome - was sequenced, analysed and the results given to doctors within 50 hours in intensive care units at Children's Mercy Hospital, Kansas City.
The process would normally take at least a month, they said.
Experts in the UK said it was an "impressive" technical achievement.
US doctors say up to a third of babies admitted to neonatal intensive care units are there because of genetic diseases caused by mutations in their DNA. However, there are more than 3,500 different genetic diseases meaning many are rare and difficult to diagnose.
The first copy of the blueprint of human life - the Human Genome Project - took years to accomplish and an incredible amount of money. Since then both the time and the cost have fallen dramatically.
Children's Mercy Hospital has been testing a new way of reading the genetic code which takes 50 hours from the moment a blood sample is taken.
They were able to make a diagnosis in three out of the four babies they tested, according to a study published in Science Translational Medicine.
Costly business
Dr Stephen Kingsmore, director of the Center for Pediatric Genomic Medicine at the hospital, said: "We can now consider whole genome sequencing to be relevant for hospital medicine.
"It is now feasible to decode an entire genome and provide interim results back to the physician in two days.
"We think this is going to transform the world of neonataology."
The results could help doctors provide the best treatment and counsel families. However, at a cost of about £8,400 ($13,500) it is still expensive.
Prof David Bonthron, from the University of Leeds, said: "It's pretty impressive technically, they're pushing the envelope of how fast you can turn this stuff around - two days is pretty fast."
He said speed was also vital in analysing the genes of a foetus still in the womb if abnormalities have been identified.
However, he added: "The speed issue is maybe a bit restricted in its applicability as other areas are not that time pressured. In outpatients a few days is not that important."