Flu-related deaths 'on decrease' in Northern Ireland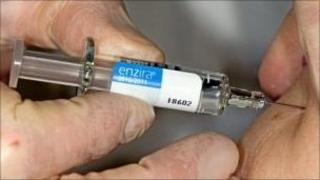 Flu-related deaths in Northern Ireland are on the decrease, according to the Public Health Agency.
It is urging people whose health could be seriously affected by flu to get the free vaccine.
The seasonal vaccination campaign is due to be formally launched by the health minister later on Thursday.
For the first time, children aged between two and 17 with conditions that put them at risk from flu will receive the medication through a nasal spray.
They include children and young people with asthma or cerebral palsy.
Children with severe learning difficulties are also advised to get the vaccine.
Adults in the at-risk groups include the over 65s, pregnant women, and those with serious medical conditions.
Health and social care staff and people who are main carers for the elderly and disabled are also eligible.
The acting assistant director of the Public Health Agency, Gerry Waldron, said there had been an exceptionally high uptake of the vaccine in Northern Ireland over the past few years.
He said it was very important for those who fall into the at-risk category to get the jab as it protects against three strains of flu.
"People are getting the message that it's really important to get this protection every year," he said.
"Flu isn't a trivial disease. It can have very serious consequences so we are urging everyone who gets an invitation from their doctor to go along and get the vaccination.
"We know that the levels of flu-related deaths. We look at them over a long period of time, in terms of years - they're going down," he said.
Mr Waldron also said the new nasal spray had been shown to be more effective in children than getting an injection.