NHS could get worse from 2013, say finance chiefs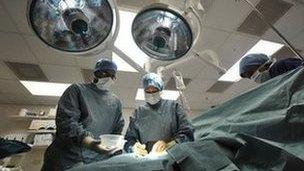 Next year could be the turning point for the NHS in England when finances unravel and the quality of care starts to get worse, finance chiefs say.
The King's Fund research, based on its own analysis and interviews with 45 finance directors, found that standards were currently being upheld.
But it warned from 2013 that would get more difficult and care could suffer.
The government, which has promised the health service will be protected, said the NHS was coping well.
The NHS has been set a target of making £20bn of savings by 2015 - the equivalent of about 5% a year.
The majority of the NHS finance chiefs who took part in the think tank's study said they were managing to make them at the moment without harming care.
The King's Fund said these sentiments were supported by the latest performance statistics which showed the NHS was performing well.
Waiting times in A&E and for non-emergency operations, such as knee and hip replacements, had fallen slightly and were well within target, while hospital infections rates continued to drop.
But that could change in 2013, the research suggested.
A total of 27 of the 45 finance directors which took part in the online questionnaire said there was now a high or very high risk that NHS would not meet its savings target by 2015.
Nineteen of the panel said they expected care to worsen over the next few years, with only eight believing it would get better.
Prof John Appleby, chief economist at the King's Fund, said: "There are signs that future years will be harder.
"The end of the public sector pay freeze next April may add to financial pressure and increase the strain on services.
"The difficulty will be finding ways to absorb these costs without compromising the quality of care for patients."
But health minister Lord Howe maintained the NHS was "on track" to achieve its savings target.
He said £5.8bn was saved last year, while performance remained good.
"Waiting times have been kept low, infections have been reduced, there are more doctors, more diagnostic tests and more planned operations," he added.
Related Internet Links
The BBC is not responsible for the content of external sites.