Quit chewing tobacco advice issued for UK South Asians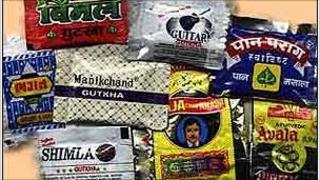 An English advisory body has issued new guidance aimed at helping people in South Asian communities stop using smokeless tobacco products like paan.
The National Institute for Health and Clinical Excellence says too often people using these products are unaware that they contain tobacco and can cause illnesses like cancer.
Awareness is also low among health professionals, says NICE.
And, unlike cigarettes, many smokeless products carry no warnings on packs.
Smokeless tobacco products include chewing tobacco like betel quid and paan, sucked or "moist oral" tobacco as well as inhaled tobacco products like snuff.
Health warning
As well as containing tobacco, they have as much, if not more, nicotine in them as smoked tobacco products do. So, like cigarettes, they are highly addictive.
They may also contain other unhealthy ingredients such as areca nuts - a mildly euphoric stimulant, known to be addictive and cancer-causing - and slaked lime, a chemical used to make cement.
Experts say it is difficult to estimate how many people in the UK use smokeless tobacco.
But it's thought that using smokeless products is one of the main reasons why South Asian women are nearly four times more likely to develop oral cancers than women from other ethnic groups in England.
Professor Mike Kelly, director of the NICE Centre for Public Health Excellence, said: "We hope that this guidance will inform health professionals of the risks posed by these products, so they can take action by asking patients of South Asian origin if they use smokeless tobacco, making sure they are aware of the health risks, and where appropriate referring people for support to help them stop using these products."
'Meetha' (sweet) paan does not contain tobacco. Instead it is flavoured with coconut, fruit preserves, rose petal preserve, and candied fennel seeds wrapped in a betel leaf.