'Too many' cancers only diagnosed in A&E, study suggests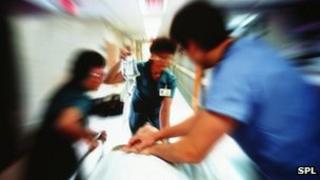 Almost a third of cancers in the over-70s are only diagnosed when a patient is admitted to hospital as an emergency, a study suggests.
The National Cancer Intelligence Network looked at nearly 750,000 patients' experiences between 2006-08 in England.
Brain and lung cancers were among the most likely to be found this way, the British Journal of Cancer paper said.
Experts said the figures were "shocking" and "appalling".
The NCIN "worked backwards" for each patient in the study to see what the sequence of events had been leading up to their diagnosis.
Shorter life expectancy
In what is believed to be the first analysis of its kind, it found that around 38,300 cancers a year among the over-70s, and around 58,400 cancers a year in total were diagnosed through emergency hospital admissions.
They suggest this may have happened for a number of different reasons.
Patients may have come into A&E because of a symptom related to their cancer, been brought in for an unrelated health problem - but had their cancer detected during routine tests, or been referred straight to A&E by their GPs because their cancer symptoms were so bad .
Over 70% of central nervous system cancers (which include brain cancers) in the over-70s were diagnosed after emergency admissions, as were 55% of pancreatic cancers and 52% of liver cancers.
Across all ages, lung cancer was also likely to be diagnosed this way, with 39% of cases discovered through emergency admissions.
However other cancers, where symptoms are easier to spot - such as skin and breast cancers - are less likely to be diagnosed in this way with just 3% of skin cancers and 5% of breast diagnosed as emergencies.
But for all cancer types, patients were much less likely to be alive a year later if they were diagnosed through emergencies, than if they were diagnosed another way.
Sara Hiom, director of information at Cancer Research UK and one of the study authors, said: "We don't yet know the reasons that lie behind these stark figures but, although we might expect higher numbers of older patients to have cancer detected as an emergency, we urgently need to understand why there is such a great proportion.
"It may be that older people are reluctant to bother their doctor with possible cancer symptoms, or they could be slipping through the net as symptoms may be dismissed as 'the usual aches and pains' or 'old age', or their GP could have referred them but their condition has progressed so rapidly that they end up as an emergency in hospital."
Awareness key
Prof Jane Maher, chief medical officer at Macmillan Cancer Support, said: "It is appalling that so many cancer patients are still diagnosed through emergency admissions.
"It can be more difficult to spot cancer symptoms in older people who have other health conditions but this does not excuse such a high number of people being diagnosed in this way."
National Cancer Director Prof Sir Mike Richards, who also worked on the study, said people needed to be made more aware of the early signs of hard-to-detect cancers - and that increased knowledge could reduce emergency diagnoses.
He added: "A public awareness campaign run in Leeds showed that the proportion of emergency presentations can be reduced.
"Correspondingly more patients were diagnosed through the urgent outpatient route. This is good for patients and for the NHS - with fewer needing to be hospital inpatients.
"We have now run a similar public awareness campaign nationally.
"We know that this led to more patients going to their GP and having chest X-rays and being referred as outpatients. We will be assessing the impact on emergency presentations, but we do not have the data yet."