Women giving birth need 24-hour access to specialists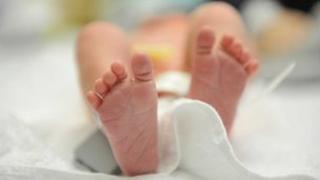 Women having a baby should have access to a specialist doctor, no matter what time of the day or night they are giving birth, experts suggest.
The report from the Royal College of Obstetricians and Gynaecologists (RCOG) says this will need an increase in the number of qualified obstetricians.
They add the cost should be balanced by closing some maternity units and centralising specialist care.
The government called for "a full range of services" close to women.
The report says that, at the moment, care during the day is delivered by fully trained doctors but at night, is provided, largely, by doctors in training.
It recommends specialist care must expand so more trained doctors are employed to provide care for women with complex obstetric and gynaecological problems "24 hours a day, 7 days a week".
And it says obstetricians should be trained to work more flexibly - moving some of the care they provide into the community.
The report says that, as more care is provided in this way for low-risk women, there will not need to be as many units handling the more complicated cases.
'Relied on trainees'
Baroness Julia Cumberlege, who chaired the working party which compiled the report, said: "The way services are organised is no longer affordable or appropriate and as services change so must those who work in them.
"Women need access to doctors round-the-clock.
"They should receive the same care if they need medical help at night or in the daytime."
Wendy Reid, vice-president for education at the RCOG added: "For too long, we have relied too much on our trainees.
"What we are proposing is an entirely new way of working that is fairer for all doctors and better for the women we serve."
Health Minister Dr Dan Poulter said: "A full range of services as close to home as possible is fundamental to safe, high quality maternity care and the government is working closely with professional associations to make this happen.
"The RCOG is right to outline how we can continue to provide better and more personalised maternity care for women."