Elderly rehab services 'lacking'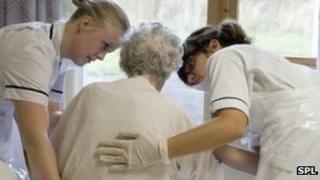 There is a lack of support and rehabilitation for elderly patients who need help recovering from falls and hospital care, a report suggests.
Such help is normally provided by joint teams of nurses, physiotherapists and social-care staff in England.
But the British Geriatrics Society audit estimated the services in place were meeting only half the demand.
The report warned the shortage was likely to cause delays in discharge from hospital and readmissions.
The group used official NHS data, patient records and individual submissions from NHS trusts and local authorities to compile its audit on intermediate care - the first of its kind.
Bottlenecks
Many of the users were elderly - the average age was 81 - and had long-term conditions, such as heart disease.
The British Geriatrics Society said the services offered by the teams were essential in helping them stay independent and recover from bouts of injury and illness.
But the audit suggested 984 people out of every 100,000 living in the areas looked at had received help from intermediate care services - about half the number who should have.
And it highlighted the fact that bottlenecks were developing where patients were being cared for by the teams for too long.
Guidelines recommend intermediate care should be used for a maximum of six weeks, but between 10% and 20% of patients were under the care of the services for 90 days or longer.
The report also raised concerns about a variation in standards, pointing out just over half of services looked at were commissioned jointly by councils and NHS trusts.
It said the NHS had to get to grips with the issue as such services were essential in meeting the "challenges posed by an ageing population and tighter financial constraints".
Michelle Mitchell, of Age UK, said the findings were a "scandal".
"It is extremely short-sighted of the NHS not to invest more in these services - if someone's discharge is properly supported, the patient will leave hospital safely and sooner and will be less likely to be readmitted.
"These services are vital to help the patient return to their previous level of independence and minimise their long term dependency on care."
Prof David Oliver, the government's older people's director, said the health service should use the audit to improve care.
"I am sure it will be of wide use to the whole sector in shining a spotlight on this previously poorly investigated area," he said.
"I commend the report and hope that is is only the start of the journey."