Dame Jo Williams: Care regulator chair to resign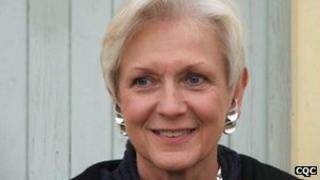 The chair of the organisation which regulates health and social care in England, Dame Jo Williams, has announced she will resign from the post.
She said it had been a "privilege" to work at the Care Quality Commission, but it was now "time to step aside".
The CQC came under attack last year over the exposure of abuse of residents at the Winterbourne View care home.
The Department of Health said she was "tireless and dedicated" to her role.
She will step down once a replacement has been found.
Last year scathing reports by the health select committee of MPs and the National Audit Office suggested the organisation was struggling to cope.
Her own position has come under close scrutiny after she tried, and failed, to have a board colleague sacked over criticism of the CQC's leadership.
Kay Sheldon had given evidence to the public inquiry into failings at the Mid Staffordshire trust which is due to deliver its report to the government in mid October. The recommendations from the inquiry could have far reaching implications for the regulation of healthcare.
'A privilege'
In a statement Dame Jo said: "I am proud of the progress we have made.
"It has been a demanding and complex role, and there have undoubtedly been challenges as we registered 40,000 providers and brought the entire health and social care system under one set of standards.
"But there is now clear evidence that our regulation is beginning to have an impact on the care that people receive, and it feels as if the organisation is moving into the next stage of its development.
"It has been a privilege to hold this important role but I now believe it is time to step aside and for a new Chair to lead CQC into the next stage."
She will still give evidence as planned to the Health Select Committee on Tuesday. The committee has previously criticised the CQC for taking on too many responsibilities and failing to concentrate on its core role of ensuring minimum standards.
Earlier in the year Cynthia Bower resigned as chief executive of the organisation.
Una O'Brien, permanent secretary at the Department of Health, said: "I would like to thank Jo for her tireless and dedicated service in leading the CQC as Chair since 2010, and before that as a Non-Executive Director from its inception in 2008.
"Jo has shown sustained loyalty and commitment to the organisation, and to the patients and the public its serves. She is leaving the CQC well prepared for the next phase of its development."