Diabetes cholesterol risk warning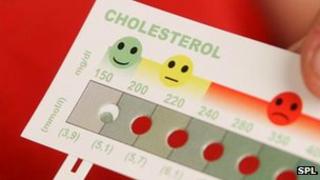 The majority of people with diabetes are not controlling cholesterol levels effectively - putting them at increased risk of heart disease, a charity warns.
Diabetes UK says 90% of people with the disease are having annual checks which will show up problems.
But it says the most recent national diabetes audit found many are not then addressing high cholesterol.
Chief executive Barbara Young said it meant the health of thousands was being put at unnecessary risk.
'Easy to control'
About 3.7 million people in the UK have diabetes. The majority - about 90% - have Type 2 diabetes, where the body makes too little insulin or where it fails to make it properly. In those with Type 1 diabetes, the body cannot produce any insulin at all.
The audit includes data on 1.9 million people in England with diabetes.
People with both types of the condition have a higher risk of heart disease than the rest of the population.
Cardiovascular disease is linked to 44% of deaths in people with Type 1 and 52% with Type 2.
Diabetes UK says that because of the existence of statins - cholesterol-lowering drugs - it is relatively easy to control high cholesterol.
People with Type 2 diabetes also have twice the risk of stroke within the first five years of diagnosis compared with the general population.
Barbara Young said the findings were worrying, adding: "It is not clear why the high number of people having their annual cholesterol check is not translating into better cholesterol control, but it is an issue that is putting the health of hundreds of thousands of people at risk.
"It will often be appropriate to prescribe medication such as statins, but it is no good doing this without explaining the importance of taking the medication regularly and the potentially devastating consequences of not doing so.
"Other ways people can help improve their cholesterol levels include losing weight, exercising daily, reducing alcohol consumption, stopping smoking and eating a healthy diet, low in fat."