Nurses leaders warn regional pay plan would harm care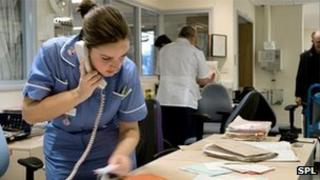 The Royal College of Nursing has warned NHS leaders that proposals to scrap national pay and conditions deals would harm patient care.
The union has written to senior managers at 20 trusts in south west England who are considering a regional approach, to try to save money.
The RCN says staff will leave and care will suffer if the plans go ahead.
The South West Pay Terms and Conditions Consortium says its approach could protect jobs and standards of care.
The consortium, set up in June, employs about 68,000 NHS workers across the region.
It recently published two papers papers outlining financial pressures on the service, and potential ways of saving money, though no decisions have yet been taken.
Consortium a 'cartel'
These concluded that trusts in the consortium could save more than 6,000 jobs through a more "fit for purpose" system of pay and conditions.
They included a list of 28 potential changes, including longer working hours, and cuts to annual leave, sick pay and on-call payments.
Health unions have refused to recognise the consortium, which they call a "cartel".
However the idea of abandoning nationally negotiated pay and conditions is drawing interest from NHS leaders across England.
The Royal College of Nursing has presented its assessment of what would happen under regional pay and conditions to all 20 trust chief executives involved in the consortium.
Drawing on Department of Health data, the document says the South West has the oldest population of any region across England, yet the number of qualified nurses, midwives and health visitors is below the national average.
It also says that since May 2010 the qualified nursing workforce in the region has fallen by more than 3.5%.
The paper presents findings from the national NHS staff survey indicating low morale at many trusts, and concludes that cutting pay or jobs "would put even more pressure on an already weakened workforce".
"Not only is there a real risk that staff will her forced to leave the NHS, but it will also be difficult to recruit, and the morale of remaining staff will be damaged further," it added.
In an accompanying letter, the union's general secretary Peter Carter warns of a potential "skills deficit" in the region that will impact on the quality of care.
The RCN says other potential areas of savings should be looked at including procurement, drug waste and expensive PFI contracts.
It also urges the trusts to work together to shift more services into the community.
National negotiations
Health service employer representatives and unions have been discussing changes to the national NHS pay framework, Agenda for Change, for eighteen months.
Dean Royles, director of the NHS Employers organisation urged unions to show flexibility, particularly on pay progression and sickness pay.
"We know this is a challenging area for trade unions but this is an opportunity to maintain the integrity of a national pay framework in the NHS".
In a statement, the chair of the consortium steering group, Chris Bown, said he fully supported the national negotiations on Agenda for Change.
But he rejected the RCN's warning that a regional approach to pay, terms and conditions would harm patient care.
"We do not accept that any introduction of revised pay, terms or conditions will be followed by a wholesale exodus of staff from the south west, or a decline in the high quality care our patients receive."
The Department of Health emphasised that no decisions or even formal proposals had been made.
"The need for local negotiations could be significantly reduced if the NHS Staff Council, which includes the RCN, were to bring national negotiations to a swift and successful conclusion," it said in a statement.
Labour's shadow health secretary, Andy Burnham, called on the coalition government to intervene, to prevent any move to regional pay.
He said: "Ministers have lost control of NHS finances and we are seeing an increasingly crude and random approach to reducing costs.
"Five thousand nursing jobs have been lost since the election, zero hours contracts are being introduced and these draconian steps in the South West are a sign of the growing panic engulfing the NHS".