How sports stars cope after the Games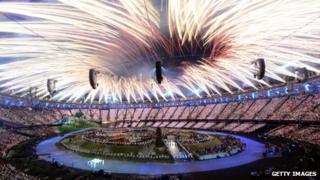 The thought of life after the extraordinary high of the London Olympics and Paralympics is a depressing one - and that's just for sports fans.
Spare a thought for the athletes who have spent years preparing for their moment to shine on the world's biggest sporting stage.
When the Games draw to a close this weekend, it will be the signal for thousands of sportsmen and women to return home to 'normal life' - but will they be psychologically prepared for the comedown?
Deirdre Angella, a sports psychologist at the English Institute of Sport who has worked with athletes competing this summer, says athletes will feel deflated.
"There will be a bit of a down, but we tell them 'Don't fight it'. 'You've had an amazing experience, you maybe don't feel as happy as you did, but you need to give yourself time to recover, emotionally and physically'."
Essentially, what the athletes are experiencing is a process of normalising, she says.
"Whether athletes have met their expectations or not, there is a low point.
"For some it lasts a day, for some a week. It varies from person to person."
If this 'low' continues for too long, or becomes something deeper, that's when psychologists step in to provide extra support.
'Tournament blues'
A home Olympic Games could mean that the comedown is even more pronounced for GB athletes who have achieved their goals in front of huge, roaring crowds.
Jennie Bimson, who played hockey for England and Great Britain for more than a decade and retired after the Beijing Olympics in 2008, says athletes are used to getting the 'tournament blues'.
"They almost expect it, it's like post-holiday blues when you feel 'yuck'. They feel that after any big event and it might be slightly exaggerated this time around.
"But athletes have good support networks and they can take time to assess their futures."
The danger is that the blues turns into depression, a known risk, especially when athletes retire from international competition altogether.
Ian Maynard, professor of sport psychology at Sheffield Hallam University, says that depression can be a big problem when sports stars hang up the tools of their trade for the last time.
"Without any structure or direction, depression, anxiety and withdrawal can occur. They've had a lot of structure and commitments in their lives as athletes."
The post-Games high quickly disappears too, he suggests.
"The euphoria lasts for two to four weeks, then they may no longer be recognised. They might do some after-dinner speaking but in three to six months the wanted feeling soon disappears.
"Most will have access to a psychologist, but some won't and they won't be there every day," says Prof Maynard.
Deirdre Angella says all athletes react differently to the end of a big event - some take time off, some return to training straight away and others will decide to retire.
Painful parting
In her role, she talks to them about the future and helps them to put plans in place for life after the Olympics.
For Jennie Bimson, retiring from hockey was painful although it was something she had prepared herself for by doing some part-time work in sports PR.
Yet leaving her sport behind had a profound effect.
"It felt a bit like someone had died in the family, like I had to go through a mourning process.
"Suddenly there's no set routine when before every day was structured. I was part of a big group of people working towards something and then I wasn't part of that exclusive group any more.
"No-one knows how you feel. It can be a lonely place."
But, as many athletes also find, life after competitive sport is also an opportunity.
They can go out into the world, learn new skills and begin a whole new phase of life which is not defined by the hockey pitch, the track or the pool.
Performance lifestyle advisers at the English Institute of Sport work with athletes at all stages of their careers, chatting through the options.
Jennie found having one dedicated person to go to, outside of friends and family, was invaluable.
"My adviser helped with my CV and made me realise that I did have transferable skills. They could also open doors to things I was interested in."
Despite the extreme highs and lows of professional sport, many athletes are attracted by its rollercoaster nature. They love the ups and downs and, as long as they can cope with them, leading a normal life is a frightening thought.
However, there is life after sport. There is even life after the Olympics and Paralympics.