Hunting the elusive hantavirus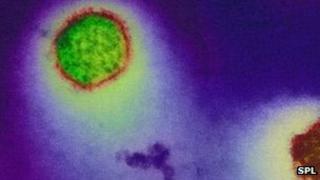 Two people have died following an outbreak at California's Yosemite National Park of a rare lung disease caused by contact with faeces and urine from infected rodents.
Hantavirus Pulmonary Syndrome (HPS) was first identified in the US in 1993, but researchers subsequently discovered Americans had been dying of the disease since at least 1959.
Two unexplained respiratory illnesses in a region shared by Arizona, New Mexico, Colorado and Utah, known as the Four Corners, led to the 1993 discovery.
Dr James Cheek, of the Indian Health Service, says: "If it hadn't been for that initial pair of people that became sick within a week of each other, we never would have discovered the illness at all."
The New Mexico Office of Medical Investigations launched an investigation covering the entire region to find anyone who might have had the mystery illness.
Within a few hours, officials had identified five young, healthy people who had all died after acute respiratory failure.
Lab tests ruled out known probable causes, including a new type of flu and the bubonic plague, and the hunt continued.
During the next few weeks, as more cases of the disease were reported in the Four Corners area, physicians and other scientific experts worked intensively to narrow down the list of possible causes.
Tissue samples from patients who had the disease were sent to the Special Pathogens Branch at the Centers for Disease Control for exhaustive analysis, which revealed the cause as a group or genus of viruses known as hantavirus.
Each hantavirus is specific to a different rodent host. In Europe it is the bank vole, but in North America it is the deer mouse.
And since the deer mouse often lives in barns and outbuildings, woodpiles, and even inside people's homes, in rural and semi-rural areas, it is not just campers, hikers and tourists who are at risk.
Once scientists knew what the virus was, they set about examining stored samples of lung tissue from people who had died of unexplained lung disease in the past.
This revealed the virus had been causing human disease at least as early as 1959 - something it appears Navajo native Americans already knew.
A similar disease, spread by mice, has been recognised in their medical traditions for years.
While HPS is a very rare disease, cases have occurred in all regions of the US except Alaska and Hawaii.
By the end of 2011, a total of 587 cases of HPS had been reported in the US. A third of all reported cases were fatal.
In Europe and Asia, hantaviruses cause a different condition, haemorrhagic fever with renal syndrome (HFRS), characterised by fever, headache, stomach symptoms and kidney problems as well as bleeding.
About 150,000 cases of HFRS are thought to occur annually worldwide. Very few cases of hantavirus infection have been confirmed in the UK.